Load volumes have been rising since mid-October, but rates have not responded until now. For November so far, both van and reefer rates are 2¢ higher than their October averages.
Retail freight continues to make its way from west to east, as stores prepare for the upcoming holiday season. 
Looking for van loads? DAT load boards are the largest and most trusted digital marketplace for truckload freight.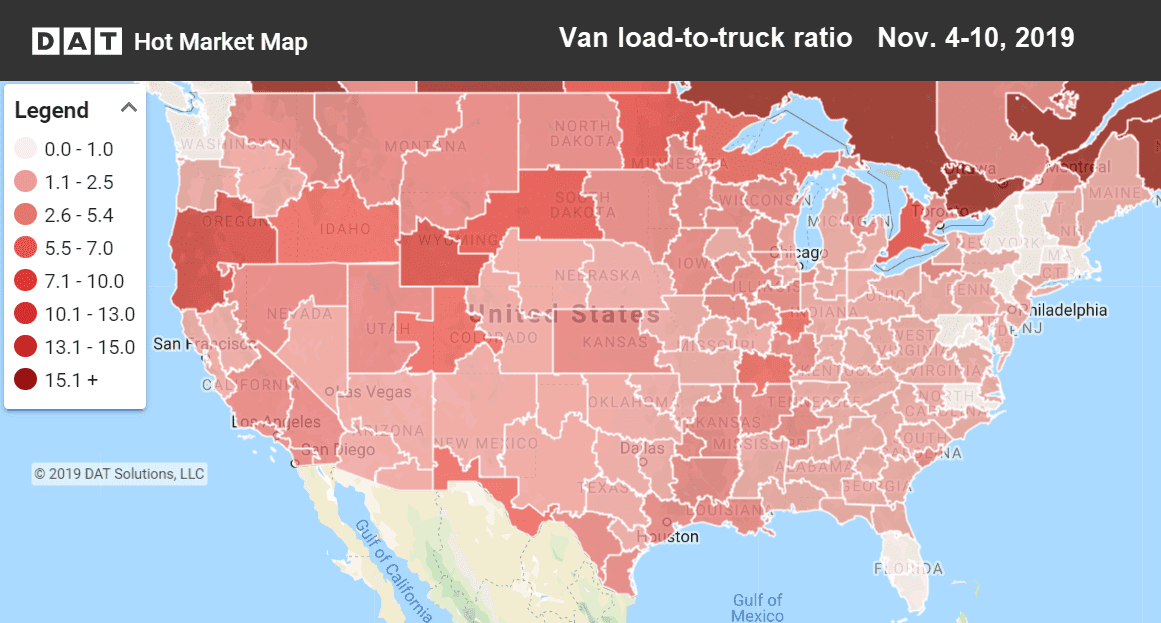 Hot Market Maps show the number of available trucks vs. available loads and are available in the DAT Power load board and DAT RateView.
Rising markets and lanes
Import freight helped boost rates in the Los Angeles market. Chicago also saw higher rates last week, but a snowstorm may disrupt truck routes this week.   
Los Angeles to Chicago jumped 13¢ to $1.57/mi.  
Denver to Oklahoma City added 11¢ to a mere $1.22/mi.  
Philadelphia to Buffalo gained 10¢ to $2.22/mi.
Philadelphia to Boston increased 8¢ to $3.30/mi.
Falling markets and lanes
Rates moved lower in some of the major van markets in the West including Seattle, Stockton, and Denver. Most major lanes coming out of Atlanta also experienced lower rates. 
Buffalo to Allentown, PA dropped 12¢ to $2.93/mi.  
Stockton, CA to Denver fell 9¢ to $2.08/mi.
Columbus, OH to Atlanta moved down 8¢ to $2.00/mi.
Memphis to Dallas slipped 7¢ to $2.19/mi.