Some of the steam appears to be going out of the booming home-building market, which has been the main driver being high flatbed volumes for loads of building material and lumber in recent months.
The November Fannie Mae Home Purchasing Index (HPSI) fell 1.7 points, which was the first decline after three consecutive months of increases leaving the index down 11.5 points y/y.
The general theme of the consumer survey was more optimism around home-selling due to low inventory level, but a more pessimistic view of homebuying conditions including expectations for future mortgage rates.
More importantly for carriers and brokers are the mixed survey findings for jobs and income expectations, which reported a higher number of consumers reporting concerns about their jobs (returning the same level in June 2020).
Find flatbed loads and trucks on the largest on-demand freight marketplace in North America.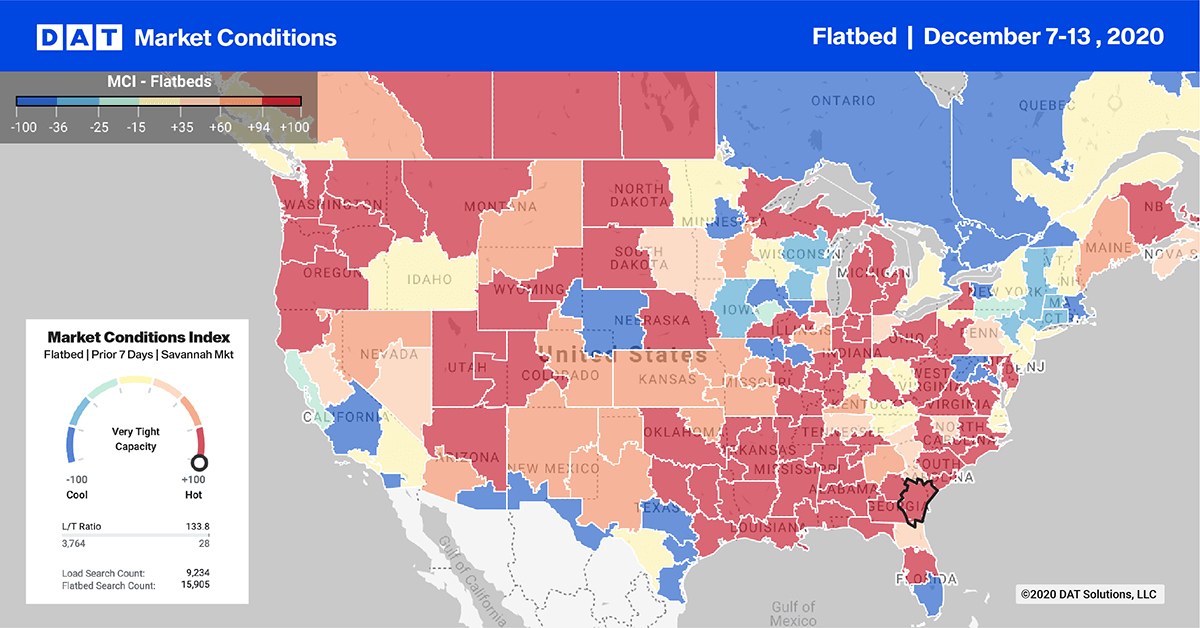 Top 10 Market Watch
The flatbed market showed some late season life last week with national outbound load post volumes increasing by 6% w/w.
Even though volumes in the top 10 markets increased just 2% w/w, larger markets including Memphis (#1) and Montgomery (#2) increased by 14% and 5% respectively w/w.
Spot rates were down $0.03/mile in Memphis, but in Montgomery capacity loosened quickly with rates dropping $0.27/mile last week. Rates in Little Rock (#3) dropped $0.24/mile to $2.43/mile with a similar result in Savannah where rates dropped $0.20/mile to $2.28/mile.
Spot Rates
Flatbed rates decreased slightly again last week by $0.01/mile to $2.18/mile, but remain in a tight trading band between $2.17/mile and $2.20/mile where they've been for over two months. Compared to the same week in 2019 when flatbed rates were $1.78/mile, rates are currently $0.40/mile higher.