Last week saw more shipments of refrigerated freight compared to the week before, but that wasn't enough to boost reefer rates. In the top 72 reefer lanes, prices dropped for 51 of them.
Freight markets recovered in Southern Texas, following the severe flooding caused by Tropical Storm Imelda, with reefer volumes bounced back nearly 25% from the McAllen market. Apple harvests continue to drive reefer demand in upper Michigan.
Looking for reefer loads? DAT load boards are the largest and most trusted digital marketplace for truckload freight.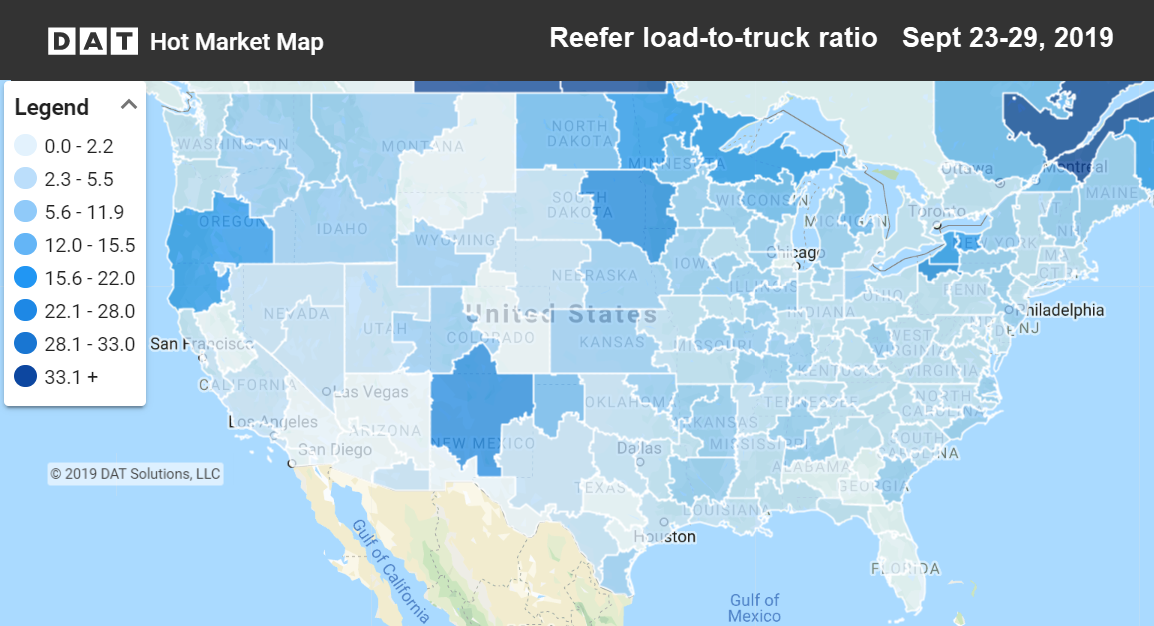 Apple harvests in the upper Midwest and pumpkin harvests in the Albuquerque, NM market drove demand for reefers last week, as seen in this Hot Market Map, available in the DAT Power load board and DAT RateView.
Rising markets and lanes
Lakeland, FL had an unexpected rise in both freight volumes and rates. The Sacramento market experienced a 15% boost in volumes, but it didn't translate to higher prices. The market with some of the largest rate increases was McAllen, TX, which resumed shipments from the Rio Grande Valley to destinations throughout the U.S.
Lakeland to Chicago rose sharply, up 16¢ to $1.24/mi.  
Denver to Houston added 15¢ to $2.00/mi.
McAllen to Chicago was up 14¢ to $1.86/mi.  
McAllen to Atlanta gained 12¢ to $2.03/mi.
Falling markets and lanes
Although we saw increased reefer demand in the northern Michigan ZIP codes that include Muskegon and Oscoda, there was a decline in rates on several lanes coming out of Grand Rapids. 
Grand Rapids, MI to Madison, WI plunged 30¢ to $2.66/mi.  
Chicago to Atlanta dropped 20¢ to $2.90/mi.  
Nogales, AZ to Los Angeles fell 16¢ to $1.67/mi.
Miami to Boston dipped 13¢ to $1.84/mi.  
RELATED: Spot market poised for stronger Q4