Lower import and export levels of temperature-controlled freight contribute to the soft demand reported by reefer carriers. According to data supplied by IHS Markit, both levels are the lowest in five years. In August, national refrigerated import container volumes totaled 148,152 TEU (twenty-foot equivalent units), down 12.6% y/y or 21,327 fewer TEU. The top port for TEU imports was New York (13.6%), followed by Philadelphia (13.3%). TEU volume in those ports was down 26.8% y/y in New York and 0.9% y/y in Philadelphia. The number one commodity imported was bananas, representing almost 30% of the volume. 
Refrigerated export TEU volume was slightly less than half the import volume in August at 71,533 TEU, with the Port of Oakland (California) remaining the number one port (15.5% of volume), where 61% of the volume was fresh and frozen meat. Oakland export TEU volume was 23% lower y/y. Savannah (10.2%) was the number two export port, which reported a 33% lower volume y/y, with poultry accounting for 85% of volume. National export TEU volume was 36.5% lower in August compared to the same period last year.
According to the USDA, refrigerated produce imports in September from Mexico are up 13% year-to-date, reaching the highest volume level in the past five years. Mexican imports in May rose 25% from 2018, a benchmark high pre-pandemic level. Tomatoes, avocados, and watermelons dominate commodity volume.
Get the clearest, most accurate view of the truckload marketplace with data from DAT iQ.
Tune into DAT iQ Live, live on YouTube or LinkedIn, 10am ET every Tuesday.
Market Watch
All rates cited below exclude fuel surcharges unless otherwise noted.
Outbound reefer linehaul rates in Georgia have dropped almost $0.60/mile since the July 4 break, although they were flat last week at $1.94/mile, around $0.09/mile lower than in 2019. Regional loads from Atlanta to Orlando paid carriers an average of $2.77/mile last week, down $0.13/mile compared to last month's average on a 2.5% higher volume of loads moved. At $3.07/mile, reefer outbound average spot rates in New York state were flat last week, even though solid gains were reported in Buffalo, where rates increased by $0.05/mile to $2.92/mile. Regional loads to Elizabeth, NJ, averaged $3.42/mile.
In Philadelphia, the number two port for refrigerated imports, spot rates decreased by $0.03/mile last week to $1.96/mile. Loads to Buffalo paid the lowest rate in 12 months at $2.32/mile. Pennsylvania state average rates at $2.28/mile were $0.02/mile lower last week and $0.12/mile lower than in 2019. 
Fall produce season continues in the Pacific Northwest (PNW) – outbound Washington state rates averaged $1.86/mile last week, up $0.05/mile w/w. In Pendleton, the second-largest reefer spot market in the PNW, rates were up another $0.03/mile last week, averaging $1.91/mile for outbound loads. Spot rates in the largest spot market in the region (Twin Falls, ID) were up a penny per mile to $2.15/per mile. 
Load to Truck Ratio (LTR)
Reefer load posts (LP) volume has decreased 30% in the last month and has been flat since the July 4 break following last week's 21% w/w decrease. Typically, we see an increase in LP volume over that timeframe. Carrier equipment posts decreased by 4% w/w, resulting in last week's reefer load-to-truck ratio (LTR) decreasing from 3.72 to 3.05.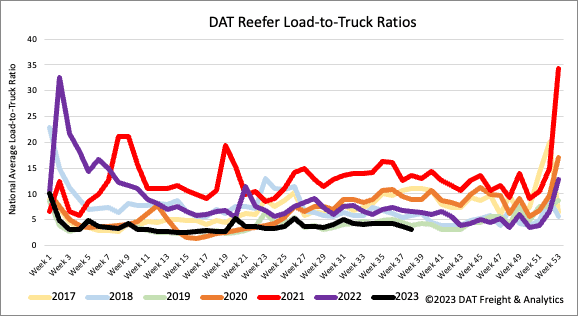 Spot Rates
The USDA reported loosening capacity in key growing regions in the PNW and California, a 16% y/y increase in truckload capacity in regions accounting for just over half of the current national volume. There was also a surplus of trucks reported for loads of imported produce from Mexico in southern Texas, although the same was reported at this time last year. At $1.93/mile, reefer linehaul spot market rates are $0.29/mile lower than in 2022 and $0.05/mile higher than in 2019.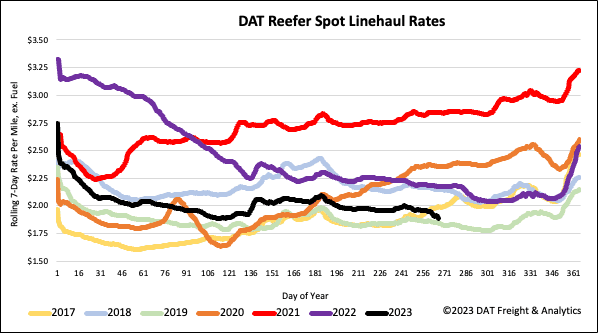 Weekly reports