Berries are generally in season from spring through summer, depending on the state. Some berry seasons even happen during the fall.
"Besides the highly shippable berries from California and Florida, berries are a particularly regional product sold not far from where they're grown," says Kevin Schooley, executive director of the North American Strawberry Growers Association. "In a lot of cases, the varieties grown from anywhere that's not Florida or California are not of a post-harvest quality built for shipping long distances."
According to the USDA, just over 50% of annual berry production comes from California followed by Mexico at 29% and Florida with 7%. So the vast majority of berry production does indeed travel long distances to market. Strawberries make up two-thirds of the annual berry crop production (60,000 truckloads annually) with blueberries a distant second at 20% or close to 18,000 truckloads each year.
July is also peak harvest time for growers in Hammonton, NJ, the self-proclaimed "blueberry capital of the world." The harvest generally begins in early June and ends by late July. New Jersey growers typically account for a quarter of July's blueberry volume with Oregon (33%), Washington (21%) and Michigan (11%) making up the balance of the estimated 1,400 truckloads shipped each July.
Carriers and brokers who serve port markets like Philadelphia and cross border markets in Texas see the majority of annual blueberry volume during the winter months. For now though, truckload carriers will move around 45,000 truckloads of berries in California and just over 6,000 truckloads out of Florida this month.
Find loads and trucks on the largest load board network in North America.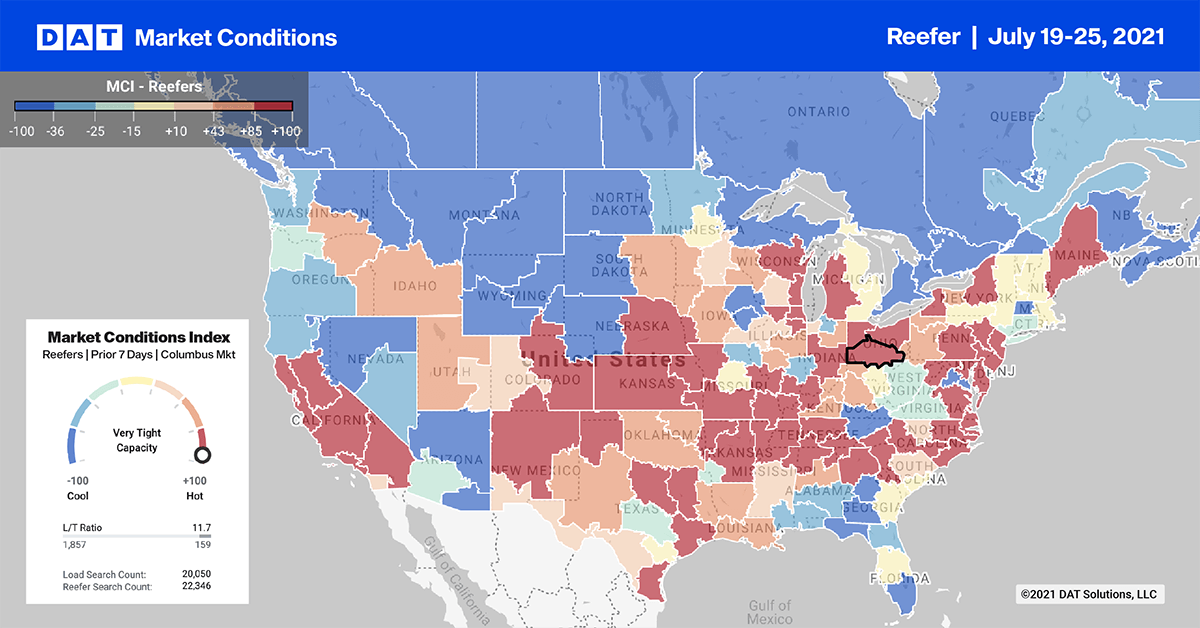 Note: All rates exclude fuel unless otherwise noted.
The 8-week harvest season has started for cantaloupes in southern Missouri. And according to the USDA, there was a shortage of trucks last week for loads to Chicago. As a result, reefer rates hit a 12-month high of $4.24/mile, which is $1.19/mile or 37% higher than the same time last year. This is a great indication of just how tight capacity can be on individual lanes
Further west, there was also a shortage of trucks last week for loads of potatoes in the San Luis Valley south of Denver. Colorado is the second largest fresh potato growing region in the country with most of the freight volume falling into the Grand Junction market.
Spot rates jumped 11% last week to an average of $2.40/mile. Loads from the San Luis Valley to Chicago hit $2.62/mile last week, which is up around $0.60/mile from this time last year. On the 1,500-mile run east to Atlanta, spot rates surged to $2.57/mile last week. Reefer rates were up the most though on the San Luis Valley to Philadelphia run, reaching an average of $2.76/mile last week.
Spot rates
After dropping by $0.05/mile in each of the prior two weeks, reefer spot rates dropped again last week by $0.03/mile to an average of $2.73. Spot rates are still $0.65/mile higher than this time last year.
How to interpret the rate forecast:
Ratecast: DAT's core forecasting model
Short Term Scenario: Formerly the pessimistic model that focuses on a more near-term historical dataset
Blended Scenario: More heavily weighted towards the longer-term models
Blended Scenario v2: More heavily weighted towards the shorter-term models