Just as we saw with van freight, a surge at the end of September was followed by fewer reefer loads in the first days of October. There was more reefer freight coming out of the Midwest and Florida last week, but that was offset by falling volumes from California.
Load counts were up from a number of freight markets, including Nogales, AZ; Lakeland, FL; and Philadelphia. Still, that wasn't enough to boost rates in most lanes. The national average reefer rate for October so far is $2.14 per mile, which is 2¢ lower than the September average.
Looking for reefer loads? DAT load boards are the largest and most trusted digital marketplace for truckload freight.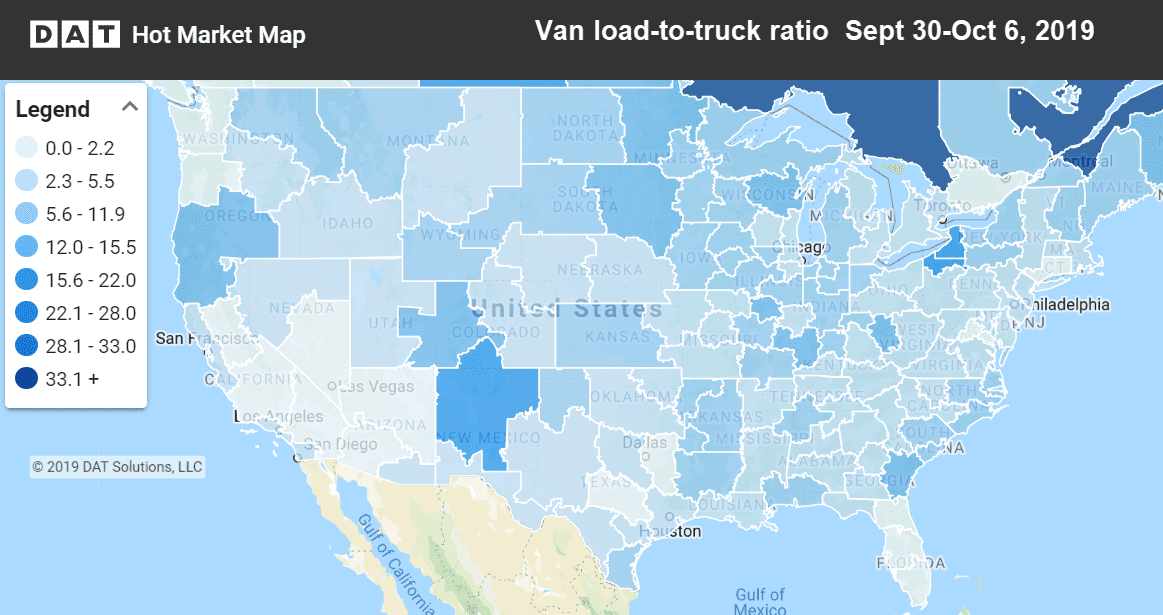 Load-to-truck ratios remain high in the Albuquerque, NM market where they're harvesting pumpkins, as seen in this Hot Market Map, available in the DAT Power load board and DAT RateView.
Rising markets and lanes
The Nogalas, AZ market, where produce from Mexico enters the U.S., saw load counts increase by more than 25% last week. Philadelphia also showed strong gains, with freight volumes up more than 15%. Regarding rates, it was two western lanes that showed the biggest gains:
Denver to Sacramento jumped 20¢ to $1.48/mi.
Twin Falls, ID, to Los Angeles increased 13¢ to $2.14/mi.
Falling markets and lanes
In California, the Sacramento, Fresno, and Ontario markets all had about 10% fewer loads last week. Rates in the McAllen, TX market were down after seeing sharp increases following Tropical Storm Imelda. Some Midwestern markets are also beginning to fade.
Green Bay to Des Moines plunged 44¢ to $2.31/mi.  
Grand Rapids to Atlanta slipped 18¢ to $2.90/mi. 
Lakeland to Chicago bottomed out, falling 16¢ to $1.08/mi.