If you were expecting Thanksgiving to be the end of the season for reefers, think again. Rates are still rising. The national average reefer rate for December so far is $2.25 per mile. That's 7¢ higher than November's average. The last time reefer rates were at $2.25 per mile was in June.
On the top 72 reefer lanes, rates rose on more than half of them (42 lanes) last week, while only 7 lanes dropped (the rest stayed the same). That's a signal that reefer rates will continue to rise at least until Christmas, which is what happened last year. The mix of food products is not quite as predictable as the pre-Thanksgiving turkey and cranberries, but the freight volume should be very strong.
Looking for reefer loads? DAT load boards are the largest and most trusted digital marketplace for truckload freight.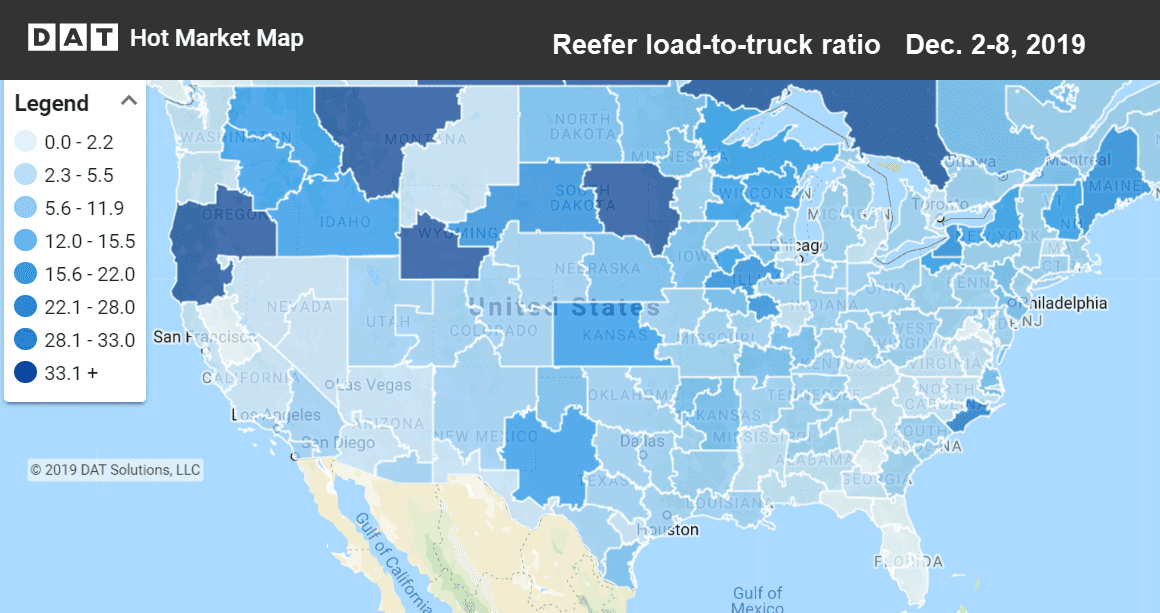 Hot Market Maps, available in the DAT Power load board and DAT RateView, show load-to-truck ratios in 135 freight markets in the U.S.
Rising markets and lanes
Freight markets where rates rose the most included the Tucson AZ market on the southern border, and in the east in Philadelphia and Elizabeth, NJ. Several lanes saw some nice increases.
Tucson, AZ to Los Angeles jumped 26¢ to $2.12 per mile, while the return trip slipped 15¢ to $2.97.
Philadelphia to Chicago increased 21¢ to $1.72, while the return trip dipped just 3¢ to $3.04.
Atlanta to Chicago gained 11¢ to $1.54 per mile, while the return trip moved down just 4¢ to $2.96.
Lakeland, FL to Baltimore gained 6¢ to $1.61, and the return trip added 5¢ to $2.20. 
Falling markets and lanes
Very few freight markets experienced any declines, and where there were, declines were only about 1% to 2%. 
Green Bay to Minneapolis declined 12¢ to $2.36 per mile.
Fresno to Baltimore dipped 7¢ to $2.12 per mile.