As we turn the corner from summer to fall, apple harvest is getting underway. Apples are harvested in all regions of the country; however, Washington state is the largest producer. According to USDA refrigerated data, apples rank second in overall refrigerated volume in the U.S. The state of Washington supplies over 85% of the yearly apple volume, New York is second with 5% of volume, and Michigan is in a close third supplying about 4% of the apple volume. Like potatoes, apples have a long shelf life when stored under the right conditions. Although harvest season typically starts in September, the shipping volumes are steady year-round. 
This year's harvest in Washington had some weather challenges during the spring bloom. "A cool spring resulted in a spotty bloom, and, as the industry, we're seeing a lot of holes in the Washington crop, meaning some trees have a really strong crop load and other trees are quite bare," said Don Roper, an apple grower with Honeybear Brands. This year's crop is projected to be down 10-15 million bushels compared to last year's crop. 
The latest indications for the New York and Michigan crops are positive. New York Apple Association President and CEO Cynthia Haskins said, "Each week, more and more varieties are ready to be harvested. So we are looking at a good crop. We're looking at about 32 million bushels. That's up from last year. It's on par with the three-year average. And we're looking for a good range of sizes." 
Michigan growers had a healthy growing season and are expecting high yields. "This crop is almost double what we had last year. So we will be able to supply consumers with Michigan apples much longer this year compared to last," says Julia Willer of BelleHarvest Sales. "Our harvest season usually ends around the beginning of November when later season apples like Evercrisp are harvested. With our crop volume this year we will be able to sell Michigan apples through the spring of 2023."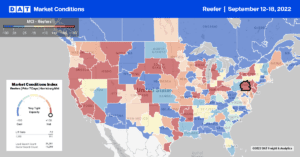 All rates cited below exclude fuel surcharges unless otherwise noted.
According to the USDA, truck availability for loads of fresh fruit and vegetables last week was at the highest level since December 2015 and on par with capacity levels in March 2020 when the pandemic took hold. The previous year's national produce volumes were running around 8% lower last week, or the equivalent of 2,600 fewer weekly truckloads. Brokers found adequate truckload capacity in 15 of the 17 produce regions reporting volumes the previous week, with Delaware, Maryland, and Eastern Virginia reporting a shortage of trucks for watermelon loads. The only other region reporting a lack of trucks was Southwest Indiana and Southeast Illinois for watermelons also. 
In Michigan, where produce season is well underway, spot rates are averaging $3.06/mile this week for outbound loads from Grand Rapids and over a dollar higher at $4.17/mile for loads to Chicago. Loads 720 miles east to the Hunts Point produce center in the Brooklyn market averaged $3.68/mile last week, just over $0.65/mile higher than the average rate in June. Ratecast is forecasting rates on this lane to peak at around $3.58/mile in December, which will be about $1.00/mile lower than the previous year.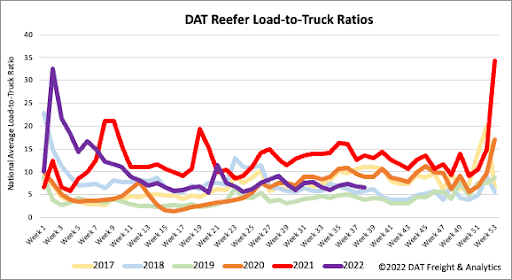 Also recovering from the short work week, reefer load posts increased by 7% last week, 39% lower than the previous year but 40% higher than in 2018. Reefer carrier truck posts increased 11% w/w and are at the highest levels found this year. Carrier equipment posts are still at levels surpassing 2018 by 24% and are up 26% y/y. As a result, the reefer load-to-truck (LTR) decreased by 4% w/w from 6.81 to 6.54.
As the summer peak produce season begins to retreat, the reefer linehaul spot rates have dropped $0.01/mile below the 2018 spot rates for the first time this year. Last week's rate decreased by $0.03/mile to a national average of $2.14/mile. Reefer spot rates are down $0.07/mile m/m and $0.69/mile lower than the previous year. However, last week's average spot rate is still $0.22/mile higher than the pre-pandemic average for the second week of September.