Food-related products rank at the top of the commodities hauled by reefer carriers. So far this year, protein foods are delivering a different volume than carriers would expect. Data for the first six months of this year showed a distinct lack of herd rebuilding due to lingering drought conditions and higher feed costs. Overall, beef cattle processing rates are lower than last year but still vastly higher than historical patterns. U.S. beef cattle have been the largest casualty of ongoing drought conditions.
The U.S. Department of Agriculture (USDA) July inventory saw all cattle and calf numbers drop by 2.7 million head since July 2022. An 800,000-head drop in beef cattle numbers and a 600,000-head drop in heifer numbers point to even tighter calf numbers in 2024 and 2025. Ultimately, this will lead to lower beef production within the U.S. At some point, based on weather conditions and profitability, farmers will start to rebuild cattle numbers, which will eventually loosen output – but that will take time. The estimated inventory of U.S. beef cattle on July 1 was 29.4 million head. The last time the beef herd fell this low was in 2014. 
Hot weather also impacts beef production, taking a toll on Missouri's farmers and ranchers and increasing livestock sell-offs. Daniel Mallory, a livestock expert at the University of Missouri, stated that farmers and ranchers need to remember that as the temperatures rise, so does water consumption, reducing an animal's food intake and weight gain potential. In addition to the heat stress on animals, the severe drought conditions in Missouri have led to poor crop and hay production, accelerating the livestock sell-off. Reefer carriers should note that rebuilding the size of herds will take time, impacting short-term volume truckload forecasts. 
Market Watch
All rates cited below exclude fuel surcharges unless otherwise noted.
Hurricane Idalia impacted the reefer market last week, with outbound spot rates increasing by $0.06/mile to $1.94/mile after being flat for the prior two weeks. Inbound rates jumped $0.12/mile to $2.62/mile in comparison. Solid gains were reported in the Jacksonville market, paying carriers an average of $2.56/mile, and were slightly higher in Savannah at $2.59/mile for outbound loads. 
Michigan outbound reefer rates continue to climb, averaging $2.79/mile following last week's $0.12/mile increase. Across Lake Michigan in Wisconsin, reefer rates average $2.76/mile, up $0.10/mile last week and $0.34/mile since the July 4 break. In the Pacific Northwest, spot rates have increased by $0.15/mile in the last month, averaging $1.91/mile last week. In Twin Falls, ID, outbound reefer rates inched over $2.00/mile for the first time in months, averaging $2.02/mile last week. In the Midwest,  reefer rates increased in Chicago and Joliet by $0.10/mile to $2.42/mile, the third week of gains.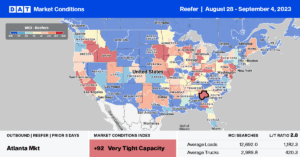 Load to Truck Ratio (LTR)
Labor Day is all about beaches, BBQs, and ballgames as thousands packed college football stadiums over the weekend. Over 150 million enjoyed a cookout, boosting reefer volumes nationally by just over 5% last week while capacity tightened following a 10% decrease in carrier equipment posts. The net result was a 5% increase in the reefer load-to-truck ratio (LTR) – from 4.30 to 4.52.  
Spot Rates
Yesterday marked the end of hot dog season, the 14 weeks of summer from Memorial Day to Labor Day. Americans typically consume 7 billion hot dogs, or around 818 hot dogs, every second during this period, resulting in greater reefer demand. Capacity tightened last week with an increase for the second week following last week's $0.04/mile increase. Linehaul rates inched back over $2.00/mile for the first time since mid-July but remain $0.24/mile lower than last year and only $0.09/mile higher than 2019.