When people think of steel, they often think of appliances like dishwashers, refrigerators and dryers. But of course, they'll also think of planes, trains, cars and trucks. There's also the manufacture of farm and construction equipment and steel to build wind turbines, solar panel systems, and electricity infrastructure. 
All require tons of steel for flatbed, dry van and specialized carriers to haul. 
Find loads and trucks on the largest load board network in North America.
Note: All rates exclude fuel unless otherwise noted.
"We estimate that for every $100 billion of new investment in infrastructure, that's going to mean five million tons of additional steel demand," says Kevin Dempsey, CEO of the American Iron and Steel Institute (AISI).
That's close to 200,000 truckloads of steel in future projects. Steel manufacturers expect the Biden administration's plan to inject billions into U.S. infrastructure to be a substantial driver of more demand in the coming years and follows a record 2021 for revenue and income. This will allow steel producers to reinvest in additional capacity and upgrade existing mills.
"The infrastructure bill will be icing on the cake," notes Lourenco Goncalves, CEO of Cleveland-Cliffs, following a record 2021 for revenue and income.
When the pandemic hit in the Spring of 2020, domestic steel mills closed or severely cut production. But since then, production is up 60% year-over-year according to the AISI. 
The U.S. is also the world's largest net importer of steel. Imported tons are up 17% YTD as of August, driving high levels of truckload carrier demand in both port markets and domestic inland freight markets. Domestic steel production is also up by 20.3% YTD. That's an additional 481,000 truckloads of steel in the first ten months of this year compared to the same period in 2020.
In Gary, IN, the leading producer of domestic raw steel, volumes were up 5% last week. Capacity continued to tighten as spot rates increased by $0.33/mile to an average outbound of $2.72/mile. Loads from Gary to Madison, WI peaked last week at just under $5.00/mile, which is $1.17/mile higher than the same week in 2020. 
In Mobile, AL, outbound volumes have been climbing for the last four weeks and have increased by 60% month-over-month. However, capacity has eased — rates dropped $0.26/mile last week to an average of $2.94/mile after increasing by a similar amount the week prior.  
Spot rates
Flatbed capacity eased slightly last week following a $0.01/mile decrease in the national average spot rate to $2.65/mile. Spot rates are now 15% or $0.40/mile higher than the same week last year. Compared to the same time in 2018, flatbed spot rates are $0.55/mile higher and even $0.17/mile higher than the peak in June that year.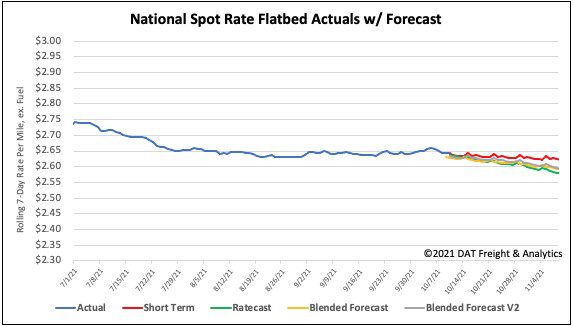 How to interpret the rate forecast:
Ratecast: DAT's core forecasting model

Short Term Scenario: Formerly the pessimistic model that focuses on a more near-term historical dataset

Blended Scenario: More heavily weighted towards the longer-term models

Blended Scenario v2: More heavily weighted towards the shorter-term models