Strong housing demand at a time of the year when building activity typically slows down has homebuilders feeling increasingly confident, according to the National Association of Home Builders/Wells Fargo Housing Market Index (HMI). Builder sentiment in the single-family housing market rose one point to 84 in December, which is the fourth consecutive increase. As a diffusion index, anything reading above 50 is considered positive sentiment. 
"While demand remains strong, finding workers, predicting pricing and dealing with material delays remain challenging," says Chuck Fowke, NAHB Chairman and homebuilder.
Last week's release of new home builder data supports builders' optimistic outlook. There was a 11.3% m/m increase in single-family homes and a 12.3% increase in the home unit/apartment sector. For flatbed carriers, single-family homes are both freight intensive and a leading indicator of demand one to two months out. 
Even though 22,000 fewer homes were built this November compared to last year, strong early winter demand bodes well. Compared to October this year, 119,000 more single-family homes were started in November, making a total of 1.173 million new homes started nationally. 
Most of the gains were in the Southeast Region where 60% of single-family homes were started last month. Volumes were up 14.36% m/m and 6.4% y/y. The second largest region for housing starts is the West Region where November volumes grew 5.73% sequentially to a total of 277,000 new single-family housing starts. 
Flatbed capacity was tight in California last week following a 21% increase on load post volumes, which pushed up spot rates by $0.06/mile to a regional average outbound rate of $2.91/mile. 
In Houston, capacity tightened slightly as spot rates inched higher to an average of $2.66/mile last week. Texas outbound load post volumes were up 11% resulting in the state average flatbed rate increasing by $0.02/mile to $2.53/mile. 
Flatbed capacity tightened considerably in Florida last week where the average outbound spot rate jumped $0.18/mile to $2.16/mile. Further west in the New Orleans port market, flatbed carriers were in high demand despite a 10% drop in load post volumes. The average outbound spot rates climbed $0.66/mile last week to a high of $3.36/mile. On the high-volume lane west to Houston, spot rates inched higher to an average of $2.65/mile after decreasing for the last four months. 
Spot rates
Flatbed spot rates have remained relatively unchanged for the last four weeks with the national average spot rate trading in a narrow $0.01/mile band. It's up slightly one week and down slightly the next. Last week the flatbed spot rate increased by less than $0.01/mile to $2.57/mile. 
Compared to this time last year, flatbed spot rates are still $0.35/mile higher and $0.47/mile higher than this time in 2018.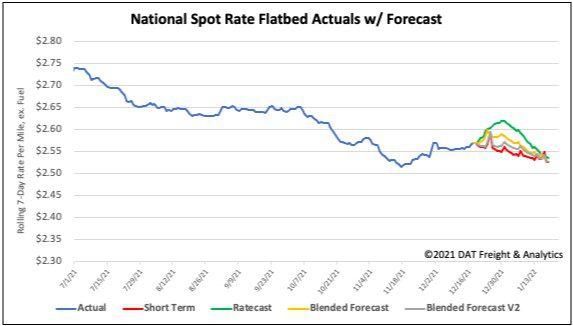 How to interpret the rate forecast:
Ratecast: DAT's core forecasting model

Short Term Scenario: Formerly the pessimistic model that focuses on a more near-term historical dataset

Blended Scenario: More heavily weighted towards the longer-term models

Blended Scenario v2: More heavily weighted towards the shorter-term models