The American Trucking Associations' advanced seasonally adjusted (SA) For-Hire Truck Tonnage Index increased 1.4% in January after rising 1.2% in December. Compared with January 2020, the index fell 2.1%, which was preceded by a 2.6% year-over-year decline in December.
"Over the last four months, the tonnage index has increased a total of 3.3%, which is obviously good news," according to ATA Chief Economist Bob Costello. "However, the index is still off 2.8% from the high in March, as tonnage plunged 9% in April alone." Costello, "expects a nice climb up for the economy and truck freight as we get more economic stimulus and increased vaccination numbers."
Find dry van loads and trucks on the largest on-demand freight marketplace in North America.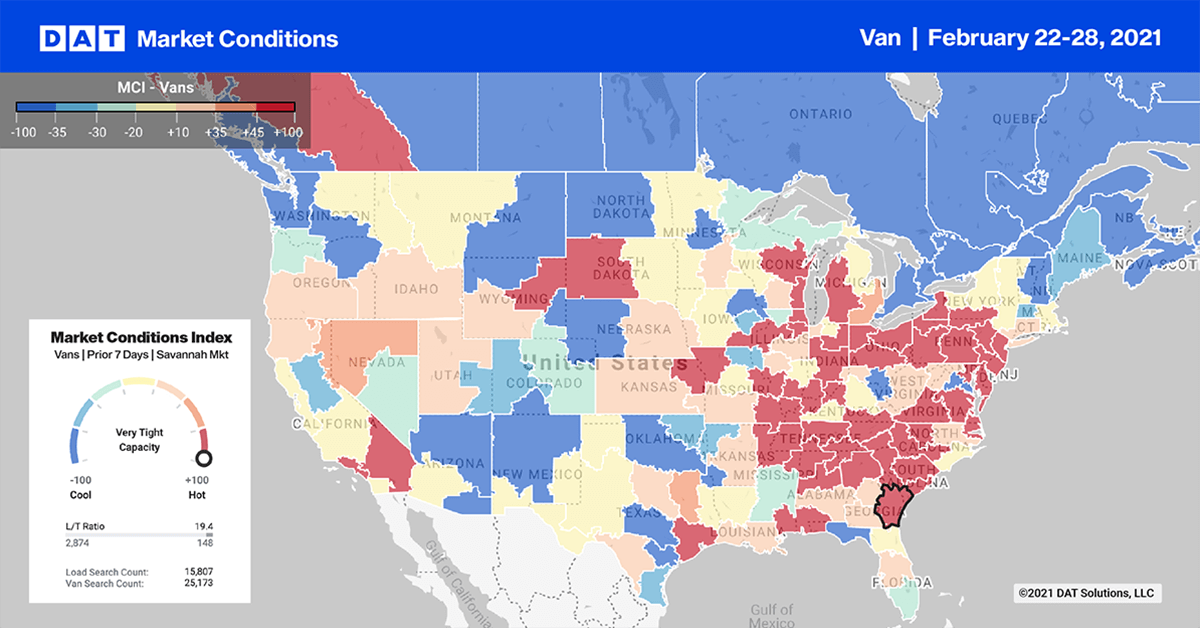 Dry van load post volumes increased by 15% week over week in the top 10 markets, as shippers struggled to move freight following the recent winter storms that disrupted freight networks. In addition to record-level spot market volumes, intermodal network disruptions pushed more freight into the spot markets as shippers sought to meet delivery deadlines with customers.
In the hardest hit state of Texas where the rebuilding effort is underway, damage caused by the Polar Vortex has driven up inbound load post volumes for dry van by 25% w/w, reefer by 28% w/w and flatbed up 53% w/w.
Texas inbound dry van volumes are up more than double from the week prior due to the extreme cold devastating the state. Spot rates in the top 10 markets were up an average of $0.18/mile last week, with spot rates in the West Coast continuing to climb.
Los Angeles and Ontario, CA, volumes were up 18% and 36% w/w respectively with spot rates up $0.25/mile in both markets to $2.72/mile and $2.78/mile respectively. Loads on the 981-mile haul from Ontario to Denver were paying almost $1.00/mile higher at $3.47/mile, excluding fuel, and as high as $3.84/mile over the last week. Capacity was still tight on the Ontario to Dallas lane, where rates were averaging $3.02/mile excl. FSC and as high as $3.62/mile for the 1,405-mile haul.
Like most loads into Dallas last week, spot rates from Chicago were also up to $2.98/mile excl. FSC, which is up by $0.62/mile on the monthly average for February.
Spot rates
With our first major winter storm event in the post-ELD era in the books, the impact on truckload capacity was evident as many carriers struggled to re-balance their networks last week. Dry van spot rates increased by 8% w/w or $0.11/mile to $2.35/mile excl. FSC – $0.81/mile higher than the same week in 2020.
Last week's spot rates are around the same levels we'd normally see during the post-Christmas holiday break when many drivers take time off to be with their families.