Truckload markets sprang into action as Hurricane Dorian attacked the East Coast. But since the storm passed, so too has the urgency that pushed rates and load-to-truck ratios higher. 
In the week before and during Hurricane Dorian, more van lanes rose than fell, but last week that trend halted. On the top 100 van lanes, rates rose on only 35 lanes, fell on 54, and 11 stayed neutral. In the Pacific Northwest rates are headed in an upward direction — thanks to increased imports and strong fall harvests — but tumbling prices in the Southeast offset those gains.
Looking for van loads? DAT load boards are the largest and most trusted digital marketplace for truckload freight.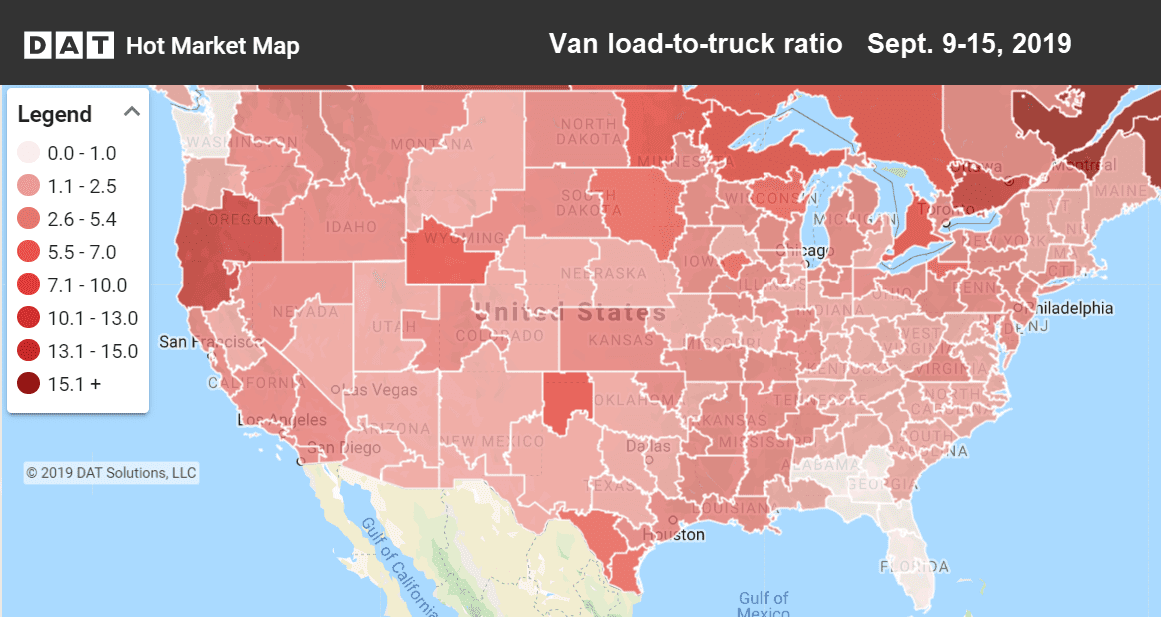 Hot Market Maps show the number of available trucks vs. available loads and are available in the DAT Power load board and DAT RateView.
Rising markets and lanes
Last Friday the load-to-truck ratio in the Los Angeles market hit a strong 4.9, and in Minneapolis it hit 6.5, with nearly 3,000 load posts and just 450 truck posts.The Pacific Northwest is moving into peak harvest season, which benefits both van and reefer freight.
Seattle to Eugene/Medford jumped 19¢ to $2.72/mi.
Memphis to Indianapolis increased 12¢ to $2.16/mi.
Portland to Stockton gained 11¢ to $1.41/mi.
Falling markets and lanes
Atlanta, Charlotte and other freight hubs in the Southeast saw lower rates, and several lanes that rose before and during Hurricane Dorian, stepped back down.
Charlotte to Lakeland fell 18¢ to $2.47/mi.
Atlanta to Lakeland dropped 17¢ to $2.79/mi.
Atlanta to Miami slipped 15¢ to $2.67/mi.
In the Midwest, Columbus, OH to Memphis was down 21¢ to $1.66/mi.