Normally this is when we start to see a bump in spot market freight, with the holiday retail season approaching. That didn't materialize last week, as load counts were slightly lower than the previous week. The sharpest drops were on lanes coming out of Chicago and Los Angeles, which are typically strong during the fall shipping season. Still, spot volumes are 15% higher than they were at this time last year.
The drop in demand led to lower prices across the country. In the top 100 van lanes last week, rates fell on 70 of them, and the national average van rate for October dipped 1¢ lower than the September average.  
Looking for van loads? DAT load boards are the largest and most trusted digital marketplace for truckload freight.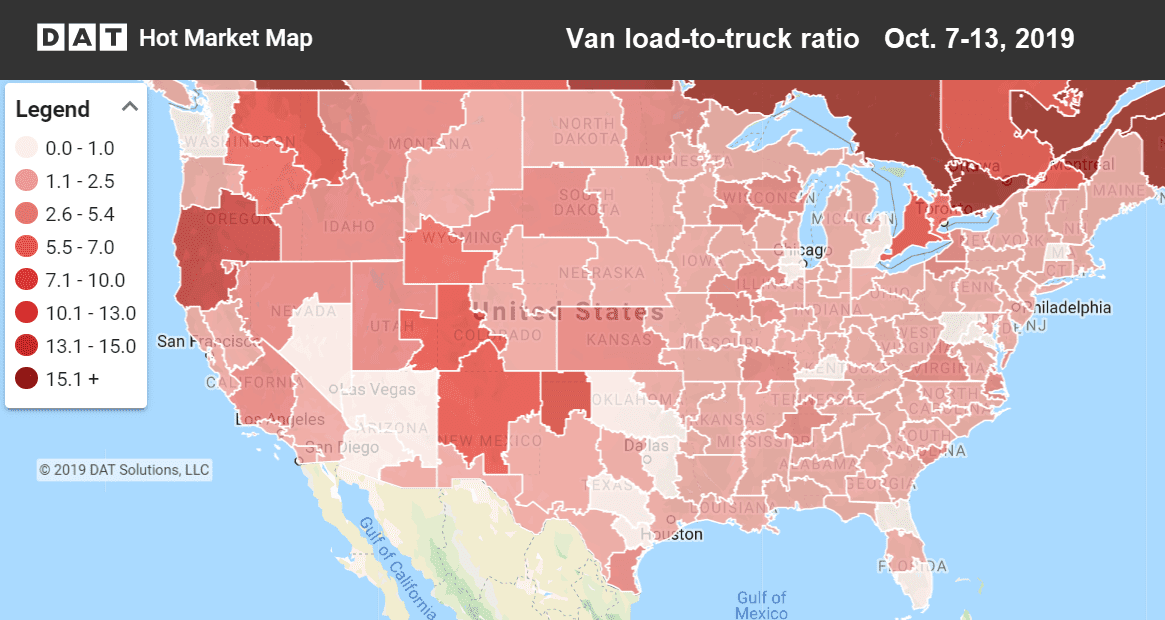 Several western markets had elevated load-to-truck ratios last week. Hot Market Maps show the number of available trucks vs. available loads and are available in the DAT Power load board and DAT RateView.
Rising markets and lanes
The biggest improvement last week was from the Buffalo, NY market, which has been subpar lately due to the GM strike. Last week, load counts from Buffalo were up more than 25%. Buffalo area warehouses hold parts and goods originating in Canada, so this may be a sign that suppliers are readying for the end to the strike, which has idled factories in the Midwest and in Canada.
Buffalo to Allentown, PA increased 12¢ to $3.16/mi
Stockton, CA, to Portland, OR gained 7¢ to $2.57
Los Angeles to Chicago stayed even at $1.47 per mile, its high point during the last 12 weeks   
Falling markets and lanes
Rates were down in several of the top markets, including Houston, Chicago and Columbus, OH.   
Charlotte to Buffalo plunged 20¢ to $1.92/mi.
Los Angeles to Phoenix slipped 13¢, to $2.76/mi.
Memphis to Charlotte was down 11¢ to $1.96/mi.