If you have a reefer trailer, you can be sure to find a load in Southeastern Georgia this week. The load-to-truck ratio jumped from 7 to 18 loads per truck for reefers in the Savannah, Georgia market today — specifically in the farm country that's about 90 miles west of Savannah. That's because today, April 22, is the start of Vidalia onion season. Starting now, sweet onions from Georgia can officially be packed, labeled, and sold as Vidalia onions.
More than 9,000 acres of sweet onions are cultivated in Georgia by 80 registered growers, and over 200 million pounds of Vidalia onions are distributed across North America each year, from late April through August, according to VidaliaOnion.org.
Find reefer loads in Georgia or anywhere in the country. DAT load boards provide the largest and most trusted digital freight marketplace in the trucking industry, with more than 256 million loads and trucks posted annually, plus insights into current spot market and contract rates based on $60 billion in real transactions.
The Vidalia onion was discovered by accident in the 1930s, when Depression-era farmers tried to grow onions as a cash crop in Southern Georgia. The sweet onions gained popularity in later decades, with the rise of farmers' markets and supermarkets, and further popularized at onion festivals that began in the late '70s. The State of Georgia trademarked the name "Vidalia onions" in 1986.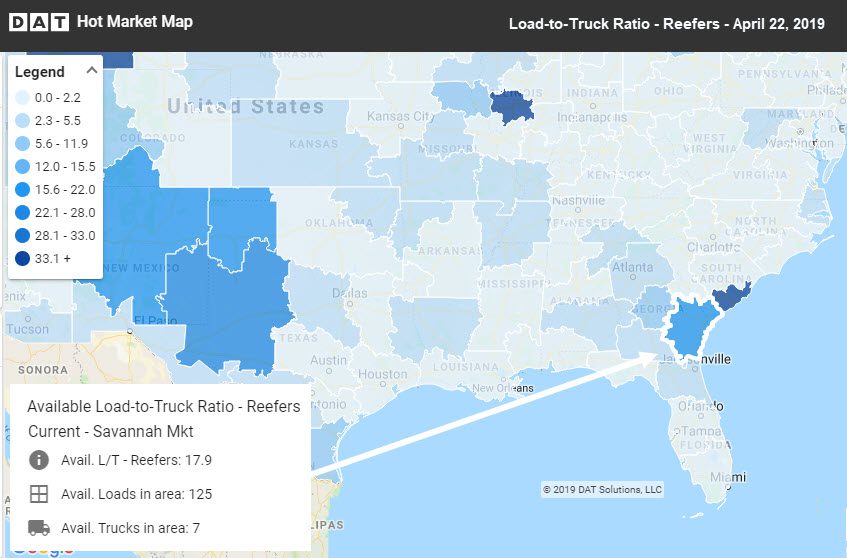 Starting today, reefer loads are plentiful in the farm areas about 90 miles west of Savannah. Vidalia onion season begins today, April 22, and continues through August.
Vidalia dominates the market for sweet onions, and its West Coast competitor, the Walla Walla Sweet, is not typically harvested until early June. Walla Walla onions are grown in Eastern Washington on about 500 acres, a small portion of the 24,000 acres of onions grown in the state. Seeds for Walla Walla onions were originally brought to this country by Italian immigrants in the late 1800s according to a report in the Spokane Spokesman-Review.