Being a freight and analytics organization, we look for clues in data, especially as it relates to truckload capacity.
When guaging the direction of commercial freight markets in 2021, there are some indicators that require extra scrutiny this year.
Get your copy of the 2021 Freight Focus: The Transportation and Logistics Outlook.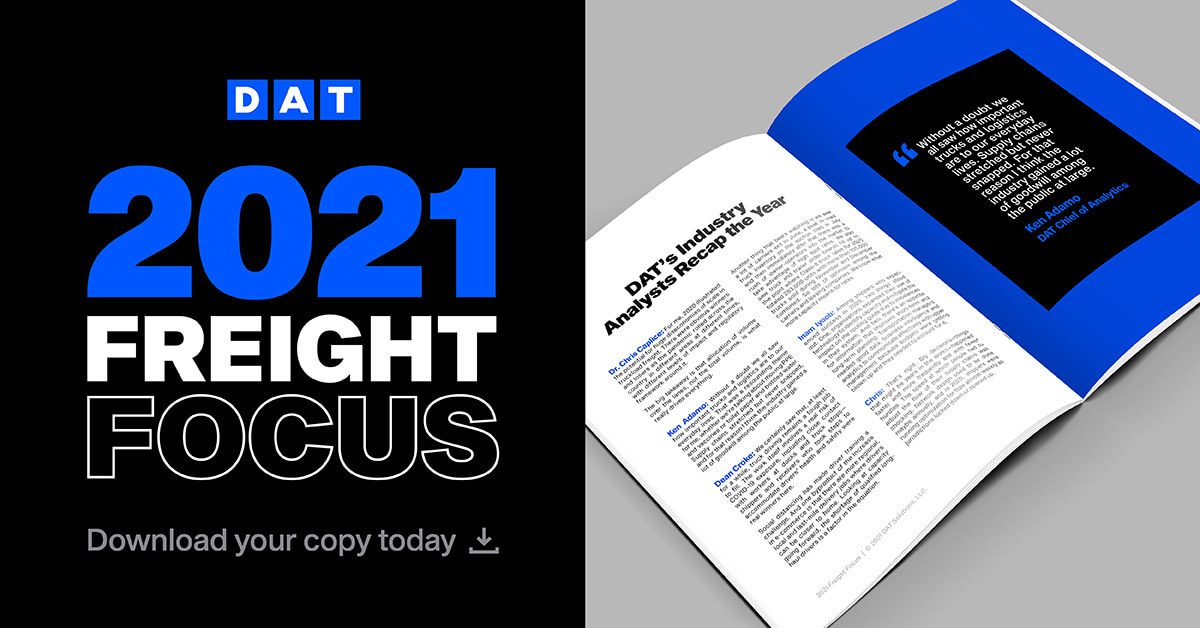 Vaccine distribution
Obviously, much of how the year plays out hinges on the rollout of new COVID-19 vaccines. The distribution of the vaccines requires sophisticated cold chains and precise hand-offs between manufacturers, carriers and distributors.
The total number of shipments has been estimated to be less than 100 truckloads a month, will move on very few select lanes, and will be handled by specialized carriers.
While the distribution efforts will not impact the majority of the trucking industry, preparation for the post-pandemic world has both demand and supply implications. Markets should slowly start to rebalance as vaccines become more widely available.
Consumer spending
How permanent is the shift in consumer spending habits to e-commerce? What effect will potential economic stimulus packages have on consumer demand? These are questions yet to be answered, but we can expect that most consumers already made their large purchases.
Compared to 2019, consumers spent 30 percent more last year on durable goods—furniture, appliances, fitness equipment, etc. Wallets might shift to services that have been denied during the lockdowns—restaurants, travel, live music, etc.
Truck orders and sales
Class-8 retail truck orders topped 283,000 units in 2020, with more than half the total coming in the last quarter of the year, according to ACT Research. The pent-up demand came after truck manufacturers suspended production in March and April, and then there was the rush on the part of carriers to capitalize on a strong pricing environment.
The last time truck orders were this hot was July and August 2018 when spot rates were at multi-year highs. It was months before those orders could be filled and delivered, and by May 2019 the economy had weakened, freight volumes declined and overcapacity began to pull truckload rates lower. A rash of carrier bankruptcies followed.
Given the current backlog at truck manufacturers, vehicles ordered last October, November and December won't come into service until the middle of 2021. It's a reminder that vehicle orders and actual sales—wheels on the ground, decals on the doors—are different things.
Fuel prices
The average price of on-highway diesel slumped during 2020 and was $2.37 per gallon to start November, the low point for the year. Eight weeks later, the price of diesel was up 33 cents to $2.70 a gallon.
Fuel is a truck fleet's biggest operating expense after labor. Higher prices can increase costs and reduce per-mile revenue, especially among smaller fleets and owner-operators that don't use speed limiters. When fuel prices are low, it's more affordable to operate a truck at higher speeds to cover more distance while still complying with hours-of-service rules.
Long-haul driver employment
According to the U.S. Bureau of Labor Statistics, employment at local trucking companies increased more than 7% between April, the low point for hiring, through July of last year, the last month for which data is available.
However, employment at long-haul carriers hit bottom in May and rose just 1.3% through July. Compared with July 2019, unadjusted long-distance trucking employment was down 6.4%, an indication that some long-haul drivers are shifting to regional, local and last-mile delivery jobs where they can be closer to home.
Some drivers left the industry for other types of work. Others are ineligible to drive due to drug and alcohol policy violations. According to the federal Drug and Alcohol Clearinghouse, a database of driver drug and alcohol program infractions, more than 45,000 drivers were in "prohibited status" as of January 2021, and three quarters had not started the return-to-duty process.
Dwell and detention
New HOS rules regarding 30-minute breaks, short haul and sleeper berth exemptions, and maximum hours on duty are intended to give truck drivers more control over their own schedules. However, delays at loading or receiving facilities because of health screenings, a shortage of lumpers or dock workers, or long lines at the gate take up potential driving time.
FourKites monitors dwell times and other factors as part of its network visibility technology. As businesses shut down last spring, March saw a 24% increase in late loads due to "extended dwell times" compared to February. Unachievable appointment times increased 18%.
One potential remedy: trailer pools and power-only loads, groups of preloaded trailers that trucking companies can pick up and drop off at shipper facilities or nearby locations. The drawback is they require a lot of equipment. All of those extra trailers add costs and take up space even as they improve utilization and reduce detention charges.
For more insights on the state of freight, get your copy of the 2021 Freight Focus.
---