Reefer loads saw a sharp increase last week, but just as we saw with vans, there appeared to be enough capacity to absorb the demand.
Volumes from California jumped 13% last week, while Florida and Arizona saw about a 10% increase. While several markets experienced price increases, it wasn't enough to boost the national average reefer rate, which remains at $2.19/mi., 4¢ higher than the April average.
DAT load boards provide the largest and most trusted digital freight marketplace in the trucking industry, with more than 256 million loads and trucks posted annually, plus insights into current spot market and contract rates based on $60 billion in real transactions.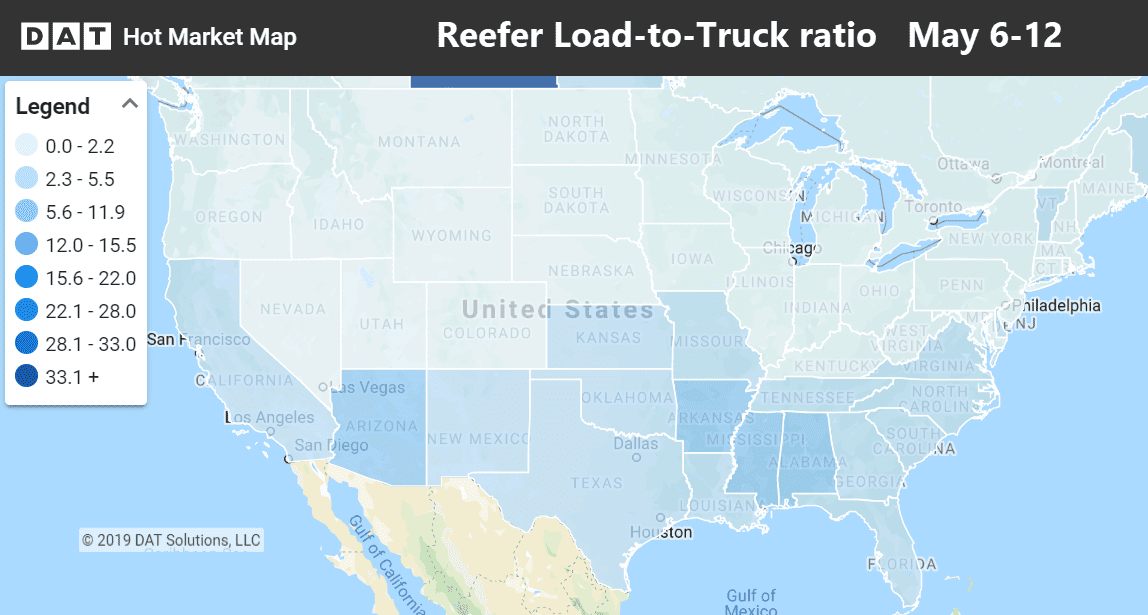 The national average load-to-truck ratio for reefers dipped to 2.3 loads per truck last week. Dark areas show where there's the greatest demand. The Hot Market Map is one of the many useful tools in the DAT Power load board and DAT RateView.
Rising rates
In California, we saw higher rates coming out of both the Sacramento and Fresno markets. In the Southeast, average rates increased from Atlanta and Lakeland, FL.  
Lakeland to Atlanta spiked 44¢ higher to $2.31/mi.  
Miami to Atlanta added 23¢ to $2.49/mi.
Fresno to Denver rose 25¢ to $2.60/mi.
Sacramento to Salt Lake City also gained 25¢, moving up to $2.57/mi. 
Falling rates
In the Midwest, volume drops resulted in steep price declines coming out of Grand Rapids, MI. And, even as some lanes increased in Florida, others took a step down.
Lakeland to Baltimore fell 37¢ to $2.49/mi.  
Miami to Baltimore was down 32¢ to $2.57/mi.  
Grand Rapids to Atlanta plunged 82¢ to $1.97/mi.  
Grand Rapids to Philadelphia dropped 26¢ to $2.74/mi. 
Related: Vans still waiting for the spring surge
Find loads, trucks and lane-by-lane rate information in DAT load boards, including rates from DAT RateView.