The pandemic has turned many aspects of life upside down, and commercial transportation is no exception.
In most years, freight under contract represents about 87% of all truckload freight hauled. In 2020, that percentage was closer to 78%. More freight moved on the spot market than ever before, yet the total volume of truckload freight was almost unchanged compared to 2019.
Surging e-commerce reoriented supply chains, requiring higher levels of inventory and driving demand for warehouse space and trucks to haul freight.
As a result of these disruptions, national average spot dry van and refrigerated freight rates soared to all-time highs just before the Thanksgiving holiday, when demand for trucks typically starts to slow. Contract rates, meanwhile, finished the year roughly right where they started.
What are the lessons learned from 2020 and will they carry over into 2021? We asked DAT's team of industry analysts.
Read the 2021 Freight Focus for more insights into the transportation trends to watch in 2021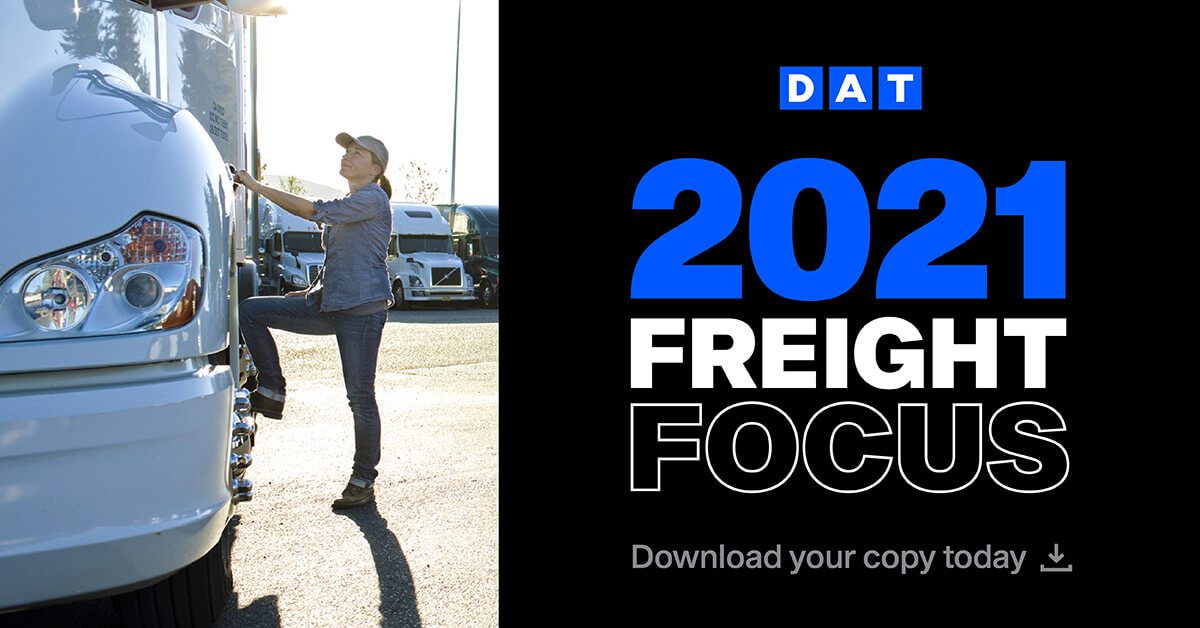 Dr. Chris Caplice, Chief Scientist: For me, 2020 illustrated the potential for huge diseconomies of scale in truckload freight. There were obvious winners and losers as the pandemic rolled across the country in different areas at different times, with different levels of impact and regulatory framework around it.
The big takeaway is that allocation of volume over the lanes, not the total volume, is what really drives everything.
Ken Adamo, Chief of Analytics: Without a doubt we all saw how important trucks and logistics are to our everyday lives. That was a resounding theme for me, whether we're talking about moving PPE and vaccines or toilet paper and bottled water. Supply chains stretched but never snapped, and for that reason I think the industry gained a lot of goodwill among the public at large.
Dean Croke, Principal Industry Analyst: We certainly saw that, at least for a while, truck driving remains a tough job to fill. The work itself involves a real risk of COVID-19 exposure, including close contact with workers at docks and truck stops—shippers and receivers who took steps to accommodate drivers' health and safety were real winners here.
Social distancing has made driver training a challenge. And one byproduct of the increase in e-commerce is that there are more regional, local and last-mile delivery jobs where drivers can be closer to home. Looking at capacity going forward, the shortage of qualified long-haul drivers is a factor in the equation.
Another thing that bears watching is we saw a lot of carriers exit in June, a peak in used truck inventory on the auction sites in July and then immediately after that there was a rush of owner-operators into the market to take advantage of high spot rates. We also saw truck and trailer order boards fill up to the point where Class-8 truck sales for 2020 totalled 283,000 units with more than 100,000 trucks sold during November and December combined. So lots of optimism among the carriers and leasing companies. We know what more capacity means for rates.
Inam Iyoob, Principal, DAT Freight Market Intelligence Consortium: Among shippers who experienced success in 2020, two things stood out. One, organizations expanded their use of technology to identify capacity and mitigate the impact on the routing guide due to imbalances in their system. And two, there's an appetite for information that improves short-term and long-term planning. Transportation managers needed good data, business intelligence and analytics to communicate effectively with upper management because budgets were getting blown up and they needed to account for it.
Chris: That's right. Big decisions—things that might be years in the works—happened faster and more frequently and with fewer hurdles. The speed at which people had to adjust the flow of their supply chains was shocking. Network design used to be done maybe annually, and in 2020, shippers were running optimization for flow almost weekly as jurisdictions locked down or opened up.
Inam: We saw this reflected in bid trends among our FMIC members. More shippers are taking a portfolio approach to transportation procurement. They have a certain segment of their freight under traditional annual bids and other segments for shorter time periods—the mini-bid phenomenon. Shippers are far more open to experimentation, which creates opportunities for transportation and logistics providers to use creative solutions and collaboration to distinguish themselves in a big way.
Ken: For brokers, 2020 was a big year for data and analytics, and I don't think you can put that toothpaste back in the tube.
When you're in the middle of a seven-month spot rate rally, and you're moving 50 to 100% more freight than you were at the same time the previous year at 60% higher rates and 20% lower margins, really good data can help you be more efficient and show the value and expertise you bring to the freight transaction.
It can also bring transparency to the rate negotiating process and diffuse some of the contentiousness that can occur between carriers and brokers.
One thing that 2020 showed us is that it's never been easier to get into data analytics because there are so many offerings out there. The challenge of having so many offerings is discerning the signal from the noise. Brokers learned a lot in 2020 and are asking really insightful questions about where data services get their information, how much data they have, how it's calculated and how much those services really know about commercial trucking.
Once you allocate budget and spend money for this stuff, there is an expectation from your leadership that you're using it and it's making a difference. Those are all steps that we're helping folks navigate in 2021, especially with so much noise in the market today.
Download the 2021 Freight Focus special report for more insights into what's head in the transportation marketplace.