Although van freight got a nice boost last week because of the shortened Memorial Day week, the news was a little less exciting for reefer carriers. Refrigerated food and beverages were already delivered in advance of the long weekend, and the month-end close is a big deal for vans, but not for reefers, at least not on the spot market.
Scheduled shipments, like meat and dairy products, are typically moved under contract, and the spot market trucks handle the unpredictable commodities. Fresh produce is a huge factor, and right now the produce season is just about over in Florida. Meanwhile, California produce shipments have been slow to ramp up. California had a very wet, rainy winter and some of it spilled over into the spring to the point that it's threatening to destroy this year's cherry crop.
Hopefully, other crops will benefit from the rain – so this situation can turn around, but May was a bit too quiet. The national average reefer rate ended May at $2.15 per mile, which was the same as the April average. But now we're in to June, which is typically the peak month for reefer freight. 
DAT load boards are the largest and most trusted digital marketplace for truckload freight, with more than 256 million loads and trucks posted annually, plus rates based on $60 billion in real transactions.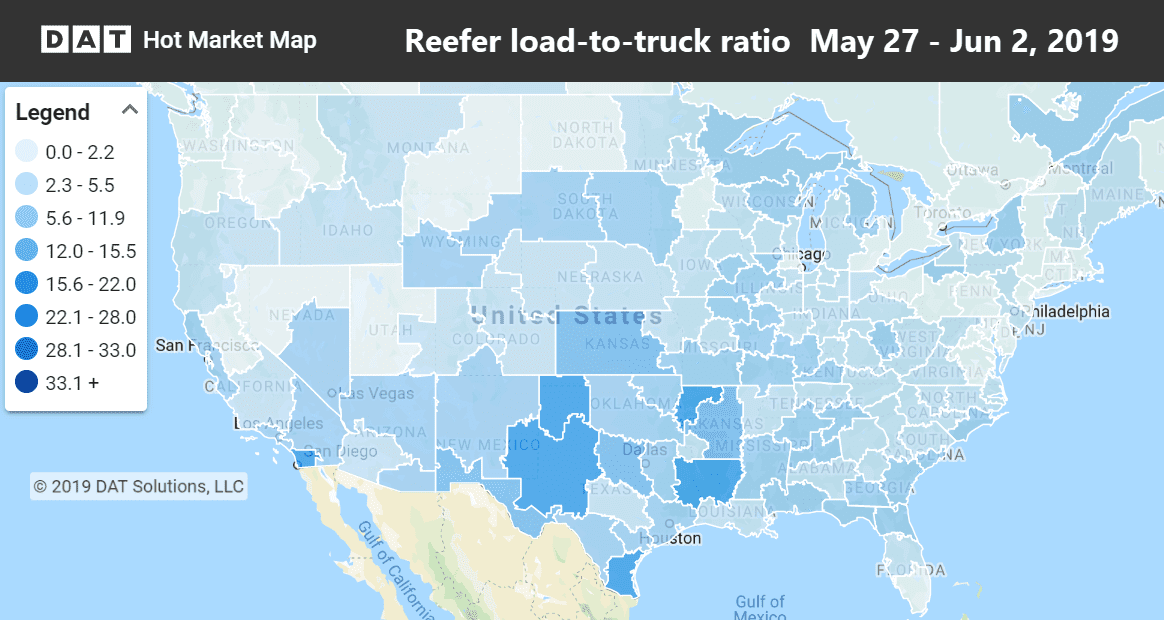 The national average load-to-truck ratio for reefers increased to 3.9 loads per truck last week. Markets with ratios above 15 included McAllen, TX, Shreveport, LA, and San Diego.
Rising rates
Rates are rising out of Sacramento in Central California and Ontario in the South. Denver rates were up for reefers, but you might not want to climb up to the Mile High City to get $1.50 coming out. In the Southeast, rates have been moving up in Atlanta, but it's not for the happiest reason — the rates to Florida are the ones that are rising the most, but there's hardly anything to haul back that's worth the trip.
Atlanta to Miami jumped 21¢ to $2.26/mi. 
Atlanta to Lakeland increased 19¢ to $2.67/mi.
Denver to Houston rose 17¢ to $1.95/mi.
Chicago to Kansas City also rose 17¢ to $2.18/mi.
Falling rates
Rates fell the most out of Florida. They stayed pretty even in other markets, but volumes were off last week because of the four-day work week.
Lakeland to Charlotte plunged 37¢ to $2.26/mi.
Lakeland to Atlanta dropped off 27¢ to $1.79/mi. 
Miami to Atlanta was down 20¢ to $1.71/mi.
Lakeland to Chicago fell 19¢ to $1.62/mi
Find loads, trucks and lane-by-lane rate information in DAT load boards, including rates from DAT RateView.