A recent analysis by Associate Professor Jason Miller at Michigan State University's Eli Broad College of Business dispelled one of the pandemic-related freight myths that food manufacturing should be higher because Americans are cooking more.
"This intuition is wrong for two reasons: 1) Restaurant meals are much larger than the average meal made at home. 2) Commodities like milk are in less demand with schools closed and folks not buying as many lattes," noted Miller.
According to the 2017 Commodity Flow Survey, by far the largest source of ton-miles for the for-hire trucking sector is Food Manufacturing, which accounted for ~17.7% of all truckload ton-miles in 2017. The analysis concluded that since total manufacturing employment is down 2.0% year-over-year as of November, we won't see employment rebound to 2019 levels in this sector until large scale vaccine distribution occurs.
Time and attendance data from Homebase reflects a similar trend, which shows that in the Food and Drink industry there are 19% fewer locations open and 23% fewer employees working compared to the pre-pandemic February 1 baseline period.
Find dry van loads and trucks on the North America's largest on-demand freight marketplace.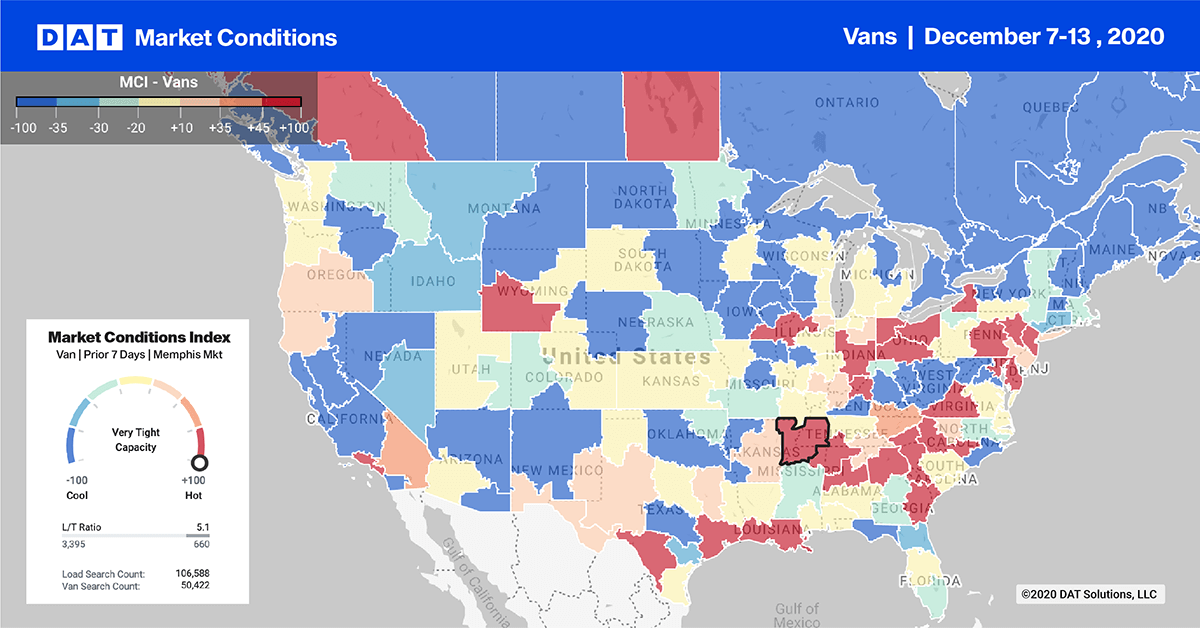 Top 10 Market Watch
Outbound load volumes dropped last week in all but one of our top 10 freight markets.
Top 10 volumes were down on average 18% w/w, but up 7% w/w in Houston (#2). Spot rates in all top 10 markets dropped this week down on average $0.07/mile including Houston where spot rates dropped $0.02/mile to $2.85/mile.
Notable declines continue on the West Coast where volumes in Los Angeles (#10) and Ontario (#11) were down close to 25% w/w with rates also down $0.11/mile in both markets.
In Atlanta (#1), rates dropped $0.10/mile, while volumes dropped 15% w/w.
Spot Rates
Available capacity loosened last week in the spot market as load volumes took a dive. The resulting impact on spot rates was a $0.05/mile decrease in spot rates from $2.30/mile to $2.25/mile (excl. FSC). Rates remain up 41% y/y and $0.65/mile higher than the same week in 2019.