Last week started with solid demand, but activity tapered off as Good Friday and the Easter weekend approached. Load-to-truck ratios peaked on Tuesday for all three trailer types, but they dropped sharply by Friday. Van and reefer rates are now lower than their March average, while flatbed rates have held steady.
DAT load boards provide the largest and most trusted digital freight marketplace in the trucking industry, with more than 256 million loads and trucks posted annually, plus insights into current spot market and contract rates based on $60 billion in real transactions.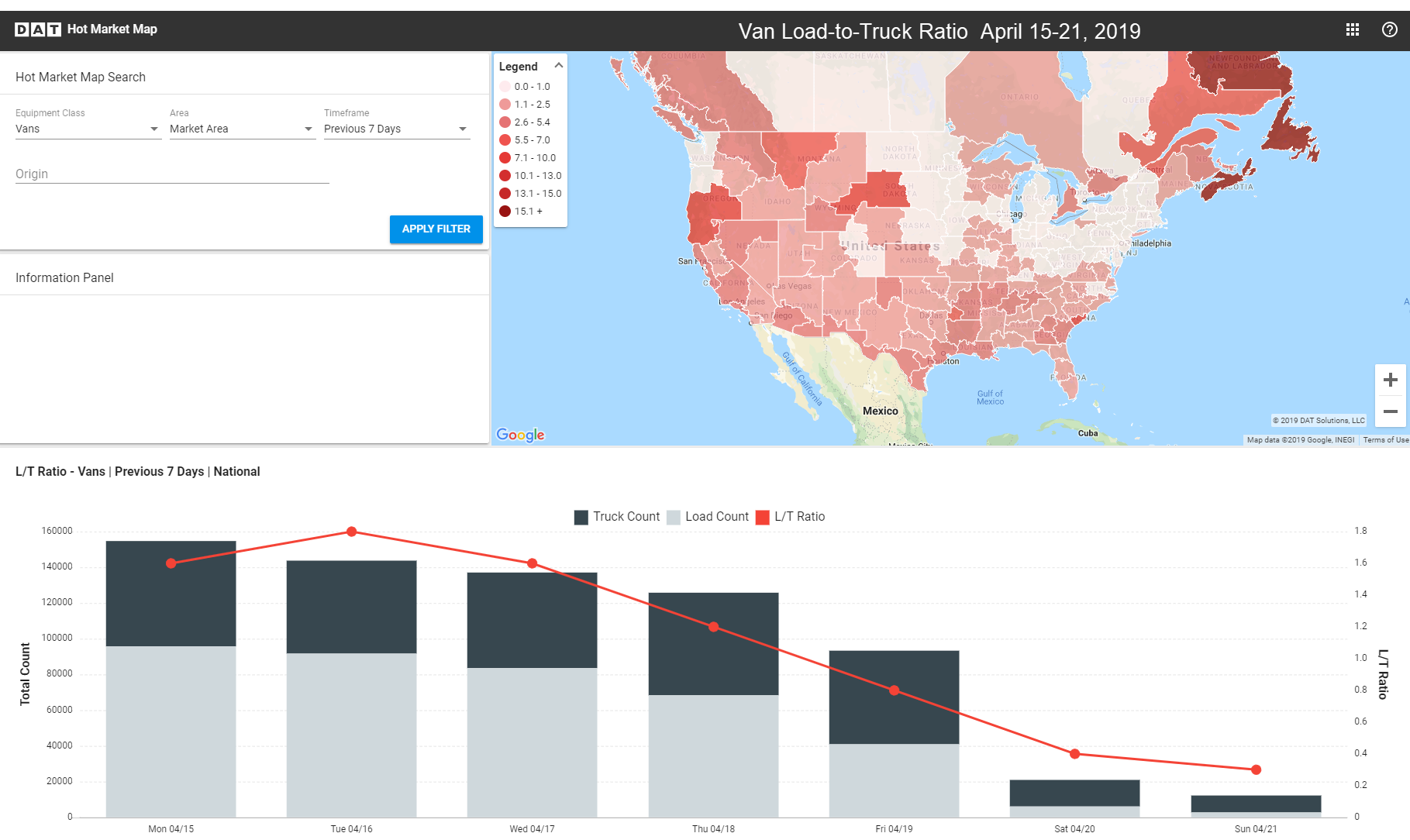 The van load-to-truck ratio peaked on Tuesday at 1.8 loads per truck (red line), falling to only 0.8 by Good Friday. These maps and graphs are found in DAT Hot Market Maps.
National Average Freight Rates – April to-date
Van: $1.82/mile (3¢ lower than the March average)
Reefer: $2.15/mile (2¢ lower than the March average)
Flatbed: $2.34/mile (same as the March average)
VAN TRENDS
Although van rates and volumes were down slightly from the previous week, freight volumes are actually 11% higher year over year. In the top 100 lanes last week, slightly more lanes fell than rose, with 42 lanes moving higher, 49 going lower and 9 staying neutral. The Los Angeles and Denver freight markets had higher rates, but those were the only two standouts. As you can see in the Hot Market Map above, demand was weakest in the Northeast and parts of the Midwest last week.
Rising rates
Atlanta to Philadelphia jumped 17¢ to $2.10/mi.
Columbus to Buffalo rose 14¢ to $2.80/mi.
LA to Seattle added 10¢ to $2.27/mi.
Denver to Dallas gained 10¢ to $1.24/mi.
Falling rates
All the major van markets lost volume last week, as many shippers and receivers ran on a reduced schedule on Good Friday. Freight volumes dropped in Houston, Buffalo, Chicago and Columbus.
Buffalo to Charlotte fell 20¢ to $1.93/mi.
Chicago to Denver dropped 15¢ to $2.29/mi.
Salt Lake City to Stockton moved down 13¢ to $1.43/mi.
New Orleans to Dallas declined 13¢ to $1.76/mi.
Find loads, trucks and lane-by-lane rate information in DAT load boards, including rates from DAT RateView