After a brief surge in reefer rates at the end of September, rates have moved lower in October. Last week freight volumes were down sharply coming out of Chicago, Grand Rapids, Denver and Fresno. On the top 72 reefer lanes, we saw rate increases in only 17 of those lanes. The national average reefer rate for October so far is $2.13 per mile, which is 3¢ lower than the September average.
There were a few bright spots, however. Load counts (but not necessarily rates) increased in diverse markets such as Nogales, AZ, Sacramento, Dallas and Green Bay.
Looking for reefer loads? DAT load boards are the largest and most trusted digital marketplace for truckload freight.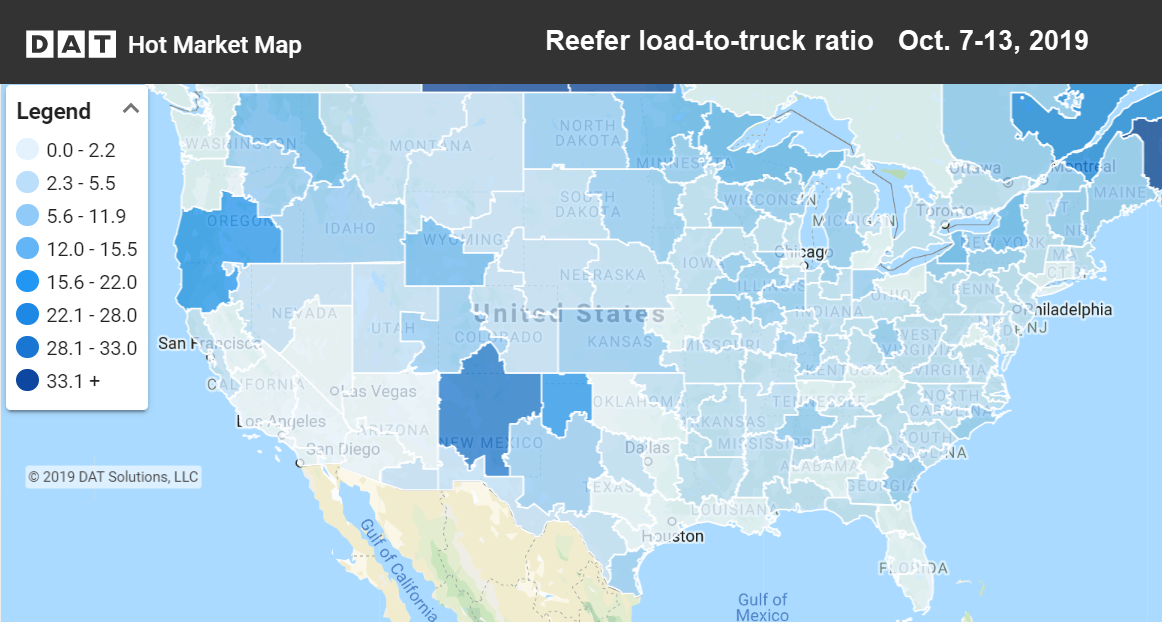 Load-to-truck ratios remain high in the Albuquerque, NM market where they're harvesting pumpkins, as seen in this Hot Market Map, available in the DAT Power load board and DAT RateView.
Rising markets and lanes
There were very few reefer markets where rates increased. The only major markets that bucked the trend of falling rates were Twin Falls, ID, McAllen, TX, Denver, and Fresno. The lane from Miami to Boston got a boost, but the other lanes coming out of Miami experienced falling prices.  
Miami to Boston jumped 28¢ to $2.01/mi. 
Nogalas, AZ to Dallas increased 17¢ to $1.98/mi.
Grand Rapids to Philadelphia added 13¢ to $3.19/mi.
Falling markets and lanes
The major metropolitan areas of Chicago, Dallas, and Los Angeles all saw rates drop between 2-3%.
Green Bay to Minneapolis fell 20¢ to $2.25/mi.  
Chicago to Kansas City was down 19¢ to $2.32/mi. 
Miami to Baltimore also was down 19¢ to $1.37/mi.