Just as rates were about to turn around, they took another hit last week. Extreme weather closed highways and forced cancellations and delays.
A huge snowstorm in Denver last week closed three interstate highways: I-25, I-70 and I-76. In Nebraska, snow followed by rain led to "historic flooding" that shut down traffic on I-80. The highways are open now, but there are still flood warnings in six states: Nebraska, parts of neighboring South Dakota, Iowa, and Minnesota, plus eastern Arizona and western Mississippi. Near Amarillo, TX, high winds tore across the highway at 80 miles per hour, toppling 40 tractor-trailers, according to news reports.
DAT load boards provide the largest and most trusted digital freight marketplace in the trucking industry, with more than 256 million loads and trucks posted annually, plus insights into current spot market and contract rates based on $60 billion in real transactions.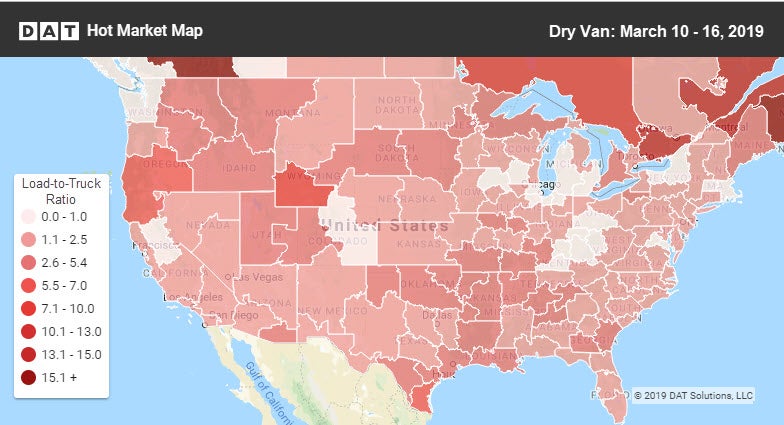 The van load-to-truck ratio declined last week to 1.6 loads per truck.
National Average Freight Rates
Van: $1.86/mile, down 2¢
Reefer: $2.19/mile, down 2¢
Flatbed: $2.34/mile, same as last week
VAN TRENDS
Overall, van volumes are not in bad shape, and are actually slightly ahead of March 2018. But the momentum has dissipated. In March so far, volumes are no better than February, and since capacity has been abundant, rates continue to slip. In the top 100 van lanes last week, 53 moved lower, while only 36 rose and 11 were neutral.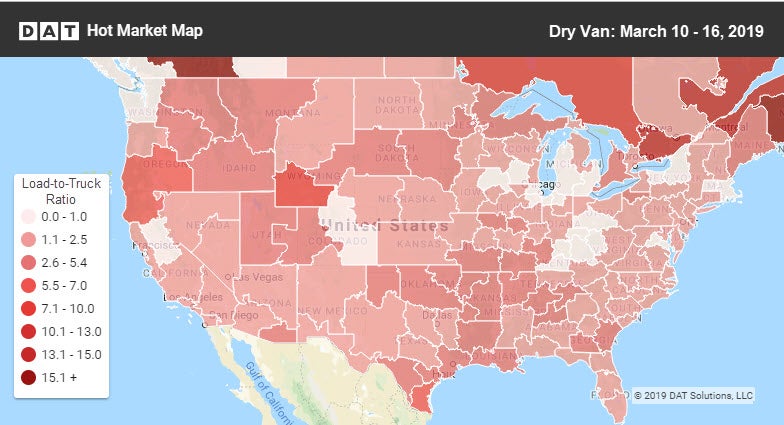 An abundance of capacity has caused van rates to move lower, even though freight volumes in 2019 are actually above previous years' levels.
Rising Rates
Road closures isolated Denver from parts of the supply chain last week. That led to an increase on the lane from Seattle to Salt Lake City, as an alternative to bringing in supplies from Denver.
Seattle to Salt Lake City bumped up 18¢ to $1.90/mi.
Seattle to Eugene, OR gained 13¢ to $2.65/mi.
Columbus to Buffalo surged 40¢ to $3.11/mi.
Falling Rates
Freight volumes are building in Los Angeles, which causes inbound rates to fall, especially on intermodal-competitive lanes as the rails seek to reposition equipment to the West Coast. As a result, several lanes to Los Angeles saw falling rates:
Dallas to Los Angeles fell 19¢ to $1.27/mi.
Chicago to Los Angeles dropped 14¢ to $1.48/mi.
Denver to Phoenix moved down 15¢ to $1.25/mi.
Salt Lake City to Stockton was down 14¢ to $1.73/mi.
REEFER TRENDS
Like van, reefer trends have not turned upward yet. In the contract market, the anticipated seasonal recovery has led to strengthening rates as contracts are renegotiated. Spot market rates, however, have slipped lower in seven of the last eight weeks, waiting on California and Florida produce to pull them higher. On the top 72 reefer lanes last week, 26 lanes moved up, while 43 lanes slipped and 3 lanes were neutral.
Rising Rates
The Grand Rapids market had two lanes rebound from an off week. Out west, Sacramento to Salt Lake City picked up, possibly replacing the Denver to Salt Lake City lane. Lanes with big price increases included:
Sacramento to Salt Lake City skyrocketed 40¢ to $2.35/mi.
Grand Rapids to Madison jumped 22¢ to $2.58/mi.
Grand Rapids to Atlanta added 21¢ to $2.71/mi
Falling Rates
The prior week's rising lanes came back to earth. Declining lanes included:
Elizabeth, NJ to Boston dropped 38¢ to $3.81/mi.
Grand Rapids to Cleveland was down 29¢ to $3.85/mi.
Philadelphia to Miami fell 22¢ to $1.96/mi.
Find loads, trucks and lane-by-lane rate information in DAT load boards, including rates from DAT RateView.