As salad production plants begin operations in Yuma, AZ on the West Coast, much the same is occurring 2,300-miles to the east in Florida, just four degrees latitude south of Yuma, AZ. The Florida winter produce season includes a variety of fruits and vegetables, including strawberries, citruses, sweet corn, eggplant and more.
Find loads and trucks on the largest load board network in North America.
Note: All rates exclude fuel unless otherwise noted.
Sweet corn and leafy greens have already been shipping since mid-November, and several other fall and winter crops will follow soon after. Tomatoes are also a big winter crop, with Florida being the only domestic source of field-grown tomatoes between November and May.
The leading producers of tomatoes for the U.S. market are:
Mexico at 67% of annual production

Florida at 16%

Canada at 8%
December also marks the start of the Florida strawberry shipping season as the California strawberry season winds down. Last year, Florida shipped 23 million pounds of strawberries in December, according to the USDA. That volume more than tripled by March, or peak season.
Reefer spot rates in the Lakeland market in central Florida continue to climb and are now up by almost $0.12/mile over the last four weeks to an average outbound rate of $1.57/mile. Loads 450-miles north to Atlanta are now averaging $2.05/mile, which is already $0.44/mile higher than this time last year. 
Loads in the opposite direction from Atlanta to Lakeland are just below their 12-month high of $4.36/mile this week and up by $0.80/mile year-over-year. 
Reefer spot rates are holding steady at $2.12/mile from Lakeland to Hunts Point, NY. Loads further north to Boston are only $0.06/mile higher than the same week last year.
Out West on the 270-mile lane from Los Angeles to Las Vegas, reefer spot rates continue to set new weekly records. This week, spot rates were up $1.57/mile compared to the same time last year to an average of $6.39/mile. In the Pacific Northwest where Christmas tree season is in full swing, spot rates for loads south to Los Angeles have climbed to $2.61/mile, which is $0.81/mile higher than the same week in 2020.
Spot rates
What goes up must come down. Reefer capacity dropped by $0.05/mile to a national average of $2.99/mile last week. Reefer spot rates are still 18% or $0.54/mile higher than the same week last year and almost $1.00/mile higher than the first full shipping week after Thanksgiving in 2018.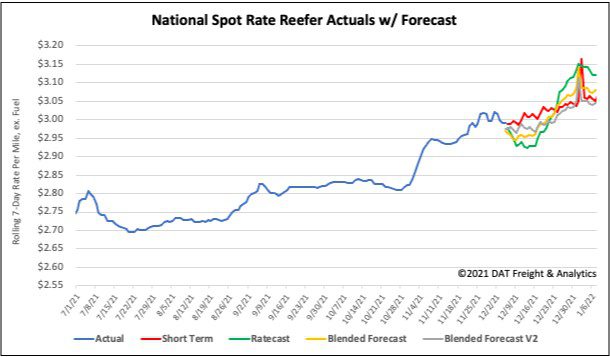 How to interpret the rate forecast:
Ratecast: DAT's core forecasting model

Short Term Scenario: Formerly the pessimistic model that focuses on a more near-term historical dataset

Blended Scenario: More heavily weighted towards the longer-term models

Blended Scenario v2: More heavily weighted towards the shorter-term models