Reefer volumes are down year-over-year driven largely by the decrease in produce volumes, which according to last week's USDA data are down 18% y/y for domestic loads of produce (53% of total produce volume).
Find reefer loads and trucks on North America's largest on-demand freight marketplace.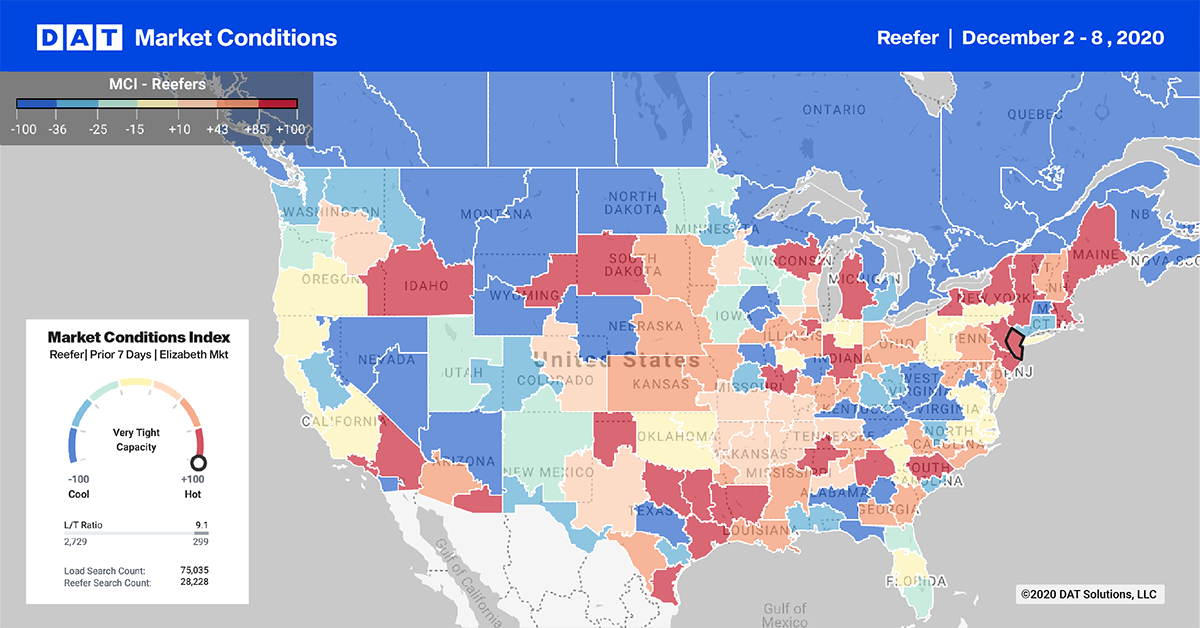 Top 10 Market Watch
In the refrigerated sector, volumes increased in all top 10 markets, but spot rates dropped in all but two markets – Elizabeth, NJ, (#2) and Indiana (#5).
Available capacity tightened quickly last week in Indiana where spot rates jumped $0.13/mile to $2.61/mile for outbound loads. In contrast, capacity loosened in Twin Falls (#10) as rates dropped $0.14/mile to $2.85/mile with a similar rate decrease in Ontario where rates fell $0.16 to $3.05/mile.
Last week's reefer LTR bounced back to pre-Thanksgiving levels ending the week at 9.16 loads per truck.
In stark contrast to dry van load post volumes, reefer load posts were down 1% compared to the weekly average for the prior two months – a sign the reefer market may have reached the peak we normally see around Thanksgiving.
Reefer load post volumes remain 53% higher y/y. Available capacity didn't tighten as much as it did in the dry van sector last week and compared to the prior two months, 3% more trucks posted for reefer loads.
Spot rates in the reefer sector headed south last week as they do each year right after Thanksgiving.
After spiking at $2.57/mile prior to Thanksgiving, spot rates dropped $0.09/mile to end the week at $2.48/mile.  Reefer rates are still $0.57/mile or 30% higher compared to the same week in 2019, but are definitely following downward seasonal trends albeit from record high levels for this time of the year.
---