The cherry season in California peaks in mid to late June and winds down quickly after contributing around 22% to the national annual volume in a very short 6-week season. Nearly all of the cherry production is near Lodi, CA, and the Stockton freight market, where the famous Bing cherry variety is grown. This region provides the ideal climate with cold winter temperatures and warm, but not too hot, temperatures in the spring and summer months, according to California Cherries.
Following the California season, cherry production switches to the Pacific Northwest (PNW), where volume from Washington State is just starting to come online. July is the typical peak season for WA cherries, and with the delayed start this year due to cold weather and rain, July and August should have good volume for truckload carriers. According to the USDA, 66% of domestic cherry production last year came from the PNW (Washington 60% and Oregon 6%).
For reefer carriers looking to load fresh cherries, transit schedules will be very tight as cherries ripen on the tree, have a short shelf life, and must be transported quickly and carefully to reduce damage. Adequate cargo insurance will be another requirement for carriers this season, but with reefer spot rates (excluding fuel) in Washington around 2019 levels at $1.58/mile for outbound loads, getting the correct rate into the PNW will be critical. The excellent news is reefer linehaul rates for inbound PNW loads are above average at $2.87/mile after increasing by $0.64/mile since the start of May.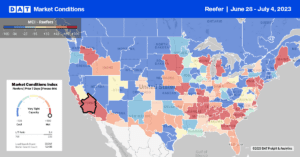 Market Watch
All rates cited below exclude fuel surcharges unless otherwise noted.
In the Watsonville market last week, home to strawberry and iceberg lettuce production, reefer spot rates in California cooled the previous week, dropping by $0.02/mile to a state average of $2.53/mile. At that level, spot rates are $0.27/mile lower than the previous year and identical to 2020. As the produce season begins in the Pacific Northwest, so does the increase in spot rates. Washington State reefer rates at $1.62/mile for outbound loads are $0.04/mile higher w/w and almost identical to the previous year. 
In the Pendleton, OR, market, reefer rates increased by $0.05/mile last week to an average of $1.68/mile, while in neighboring Spokane, rates increased by $0.07/mile to $1.72/mile. On the southern border in El Paso, where volumes were boosted by 38% higher y/y imports from Mexico, spot rates surged, increasing by $0.23/mile to $2.29/mile last week. Outbound Houston reefer linehaul rates rose for the fourth week to $1.98/mile, but that was insufficient in halting the slide in state-level rates in Texas, which dropped by $0.09/mile last week to $2.05/mile.
Load to Truck Ratio (LTR)
After a late start to the produce season due to severe weather in California and Florida, truckload volumes recovered last week. Weekly produce volumes were higher than the previous year for the first time this year. According to the USDA, volumes were 4% higher y/y following last week's 6% increase. California still trails the market down 29% y/y, with Mexico produce volumes up 38% y/y as imports fill the void left by the prolonged start on the West Coast. The increase in produce volumes boosted the overall reefer market following last week's 24% in load posts. Carrier equipment posts were 16% lower last week, increasing the reefer load-to-truck (LTR) from 3.77 to 5.51. 
Spot Rates
After hovering around $2.05/mile for the prior six weeks, reefer spot rates recorded the third highest w/w increase (behind Mother's Day and Roadcheck weeks) in linehaul rates following last week's $0.04/mile gain. The national average of $2.08/mile is $0.24/mile lower than the previous year and $0.07/mile higher than in 2019. Produce season typically lifts spot rates by around $0.25/mile between mid-April and the July 4 long weekend; that increase is just $0.14/mile this year.