Domestic goods, combined with produce moving into the U.S. from Mexico and South America, provided a big boost to the reefer sector last week, as load counts hit a seasonal high. Loads moving up from the Nogales, AZ market south of Tucson increased nearly 70%, while the McAllen, TX market saw volumes rise nearly 40%.
Even though freight volumes have been on the rise for four straight weeks, there has been enough capacity that it hasn't increased overall rates. Over the past month, volumes have risen nearly 10%, yet rates have fallen about 3%. As seen in the Hot Market Map below, even the southern border markets had enough capacity to absorb the increased demand. The national average reefer rate for October so far is $2.12 per mile, which is 4¢ lower than the September average.
Looking for reefer loads? DAT load boards are the largest and most trusted digital marketplace for truckload freight.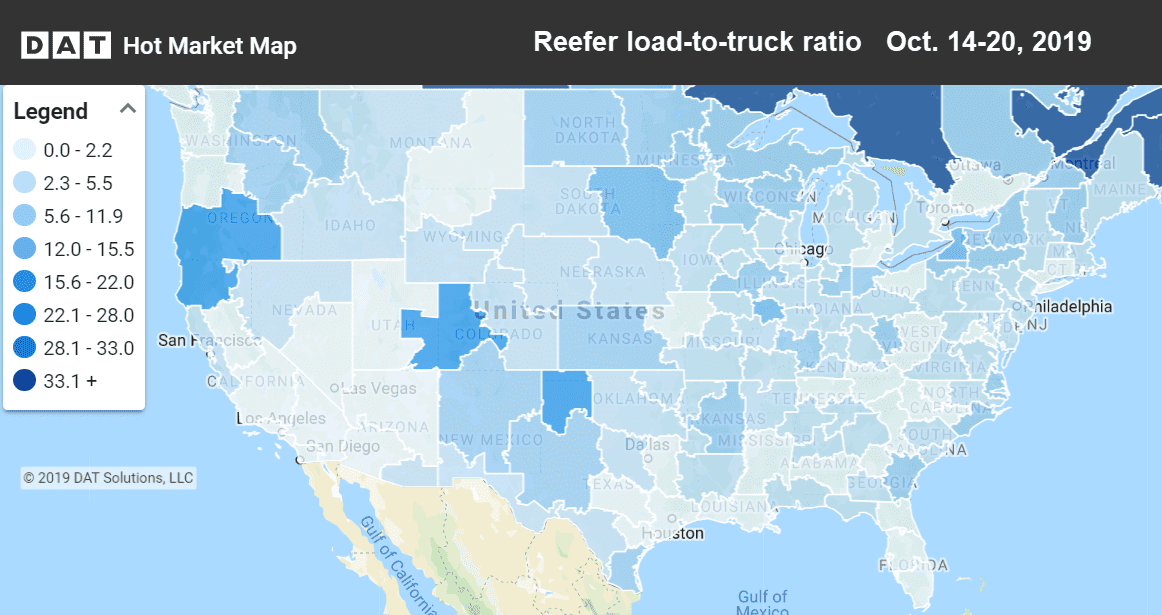 Hot Market Maps, available in the DAT Power load board and DAT RateView, show load-to-truck ratios in 135 freight markets in the U.S.
Rising markets and lanes
In addition to high freight volumes coming up from the southern border, load counts jumped by double digits in Los Angeles, Denver, Lakeland, Miami, and Twin Falls, ID.
Green Bay to Des Moines soared 53¢ to $2.82/mi.
Nogales, AZ to Los Angeles jumped 15¢ to $1.73/mi.
Ontario, CA to Seattle increased 10¢ to $2.37/mi.
Falling markets and lanes
Philadelphia saw the largest rate drop, as volumes there plunged. Rates also moved lower out of Los Angeles and Fresno despite higher volumes. In the Grand Rapids market, harvesting of tree fruit has slowed, bringing down prices there.
Grand Rapids to Philadelphia fell 22¢ to $2.97/mi.
Grand Rapids to Madison, WI moved down 18¢ to $2.33/mi.
Fresno to Chicago slipped 13¢ to $1.69/mi.
RELATED: 3 markets could signal changes to come for van freight