Fall produce season has begun in the Pacific Northwest, contributing to the typical capacity crunch that begins this time of the year. 
Growers are reporting a shortage of trucks to haul produce in several areas:
Onions in Twin Falls, ID and the Columbia Basin, WA

Potatoes in Twin Falls 

Apples and pears in the Yakima Valley and Wenatchee districts
The Fall season peak also coincides with the annual Christmas tree harvest, which results in reefer rate increases out of freight markets including Pendleton, Spokane, Twin Falls, and Seattle.
Find loads and trucks on the largest load board network in North America.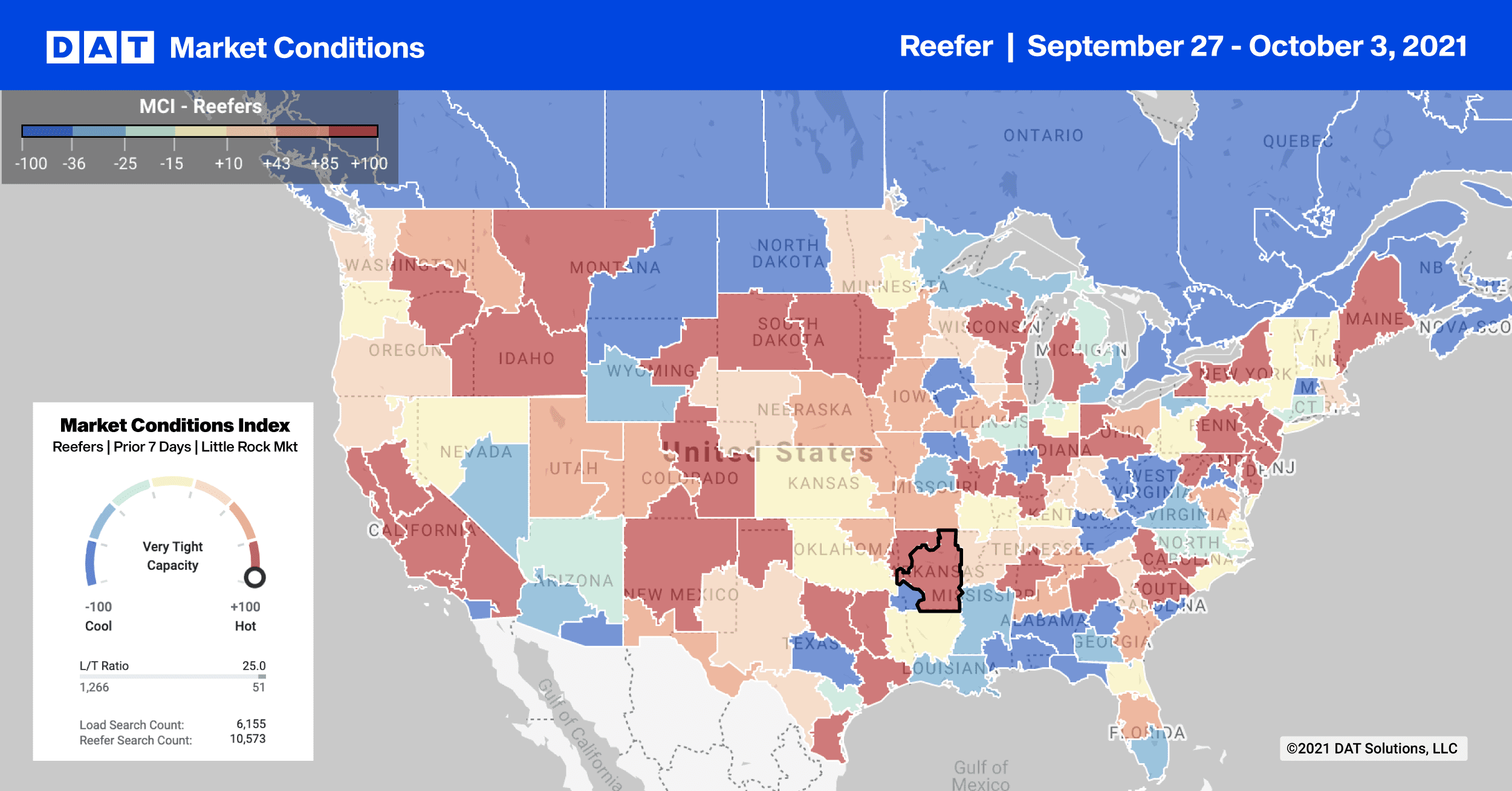 Note: All rates exclude fuel unless otherwise noted.
This week DAT is seeing tighter capacity in the Pendleton market (includes the Yakima Valley) where spot rates have been increasing for the last four weeks. Load post volumes are up 13% this week and 51% this month. 
Spot rates are up $0.06/mile this week to an average outbound rate of $3.12/mile. On the high-volume 1,916-mile haul to Milwaukee, reefer spot rates are up to $3.06/mile, which is also up $0.70/mile compared to the same time last year. 
On the East Coast in the number two port of Elizabeth, NJ, capacity continued to tighten last week with spot rates for outbound loads averaging $2.61/mile, up $0.10/mile. On the 785-mile lane to Chicago, reefer loads were paying $2.63/mile, which is up almost $1.00/mile compared to the same week last year. 
On the southbound lane from Elizabeth to Atlanta, capacity eased slightly with spot rates dropping $0.06/mile to an average of $3.38/mile after increasing $1.18/mile since June. 
In the San Joaquin Valley in California, loads from Fresno to Atlanta increased by $0.05/mile last week to an average of $3.37/mile. Loads to Hunts Point, NY decreased by $0.05/mile to an average of $3.30/mile, which is $0.42/mile higher than the same week in 2020. 
Fall produce out of Presque Isle, ME continues to increase demand for reefer carriers. Rates for loads to Hunts Point continue to climb, reaching a new 12-month high of $4.01/mile last week. That's $1.71/mile higher than this time last year.
Spot rates
After a brief pause the week prior, reefer spot rates increased again last week by $0.01/mile to a national average of $2.86/mile, which is $0.49/mile higher than this time last year. 
On our Top 70 reefer lanes, rates were up 17 (vs. 13 the week prior, down on 22 (26) and neutral on 31 (31). 
Of our Top 70 lanes (for loads moved), spot rates:
Increased on 17 lanes (compared to 13 the week prior)

Remained neutral on 31 lanes (same as last week)

Decreased on 22 lanes (compared to 26)
How to interpret the rate forecast:
Ratecast: DAT's core forecasting model

Short Term Scenario: Formerly the pessimistic model that focuses on a more near-term historical dataset

Blended Scenario: More heavily weighted towards the longer-term models

Blended Scenario v2: More heavily weighted towards the shorter-term models