American Trucking Associations' (ATA) For-Hire Truck Tonnage Index decreased 0.3% in April, following March's 2.3% increase. This reflects trucking's biggest challenge of finding qualified drivers for the supply side. Compare this to last April when the index fell as demand crashed and the seasonally adjusted index jumped 6.9%.
"The outlook is solid for tonnage going forward," says Bob Costello, ATA Chief Economist. "The country approaches pre-pandemic levels of activity, with strong economic growth in key areas for trucking – including retail, home construction and even manufacturing."
In contrast, the April 2021 Michigan State University's Retail Truck Tonnage Index* reported April's volume declining by 2.3%.
"[This] April's dip isn't too concerning, as we are still up 24.8% from April 2019," says Professor Jason Miller, co-creator of the index. April's decrease is primarily due to reduced sales at other general merchandise retailers, such as Walmart, Target, and Costco where sales dropped 8.9% on inflation-adjusted terms.
Non-store retail (including e-commerce) dipped slightly by 3.7% in April from March.
*Note: The Retail Truck Tonnage Index translates monthly retail sales for all sectors excluding motor vehicle & parts dealers (NAICS 441) and gasoline stations (NAICS 447) into physical tons of freight.
Find loads and trucks on the largest load board network in North America.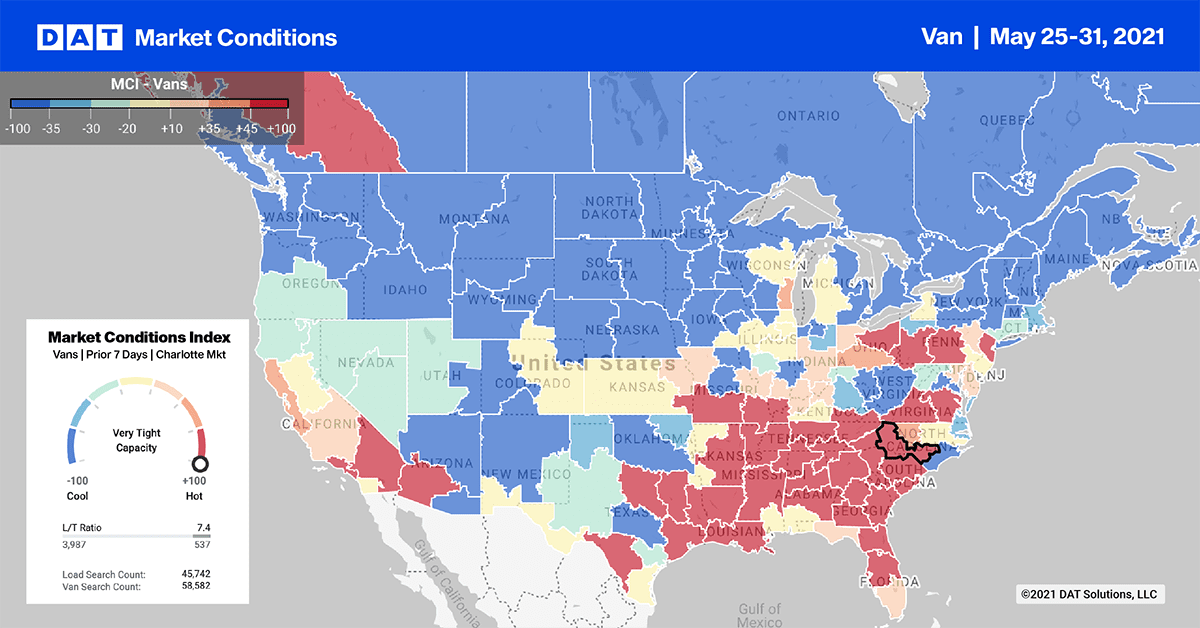 Note: All rates exclude fuel unless otherwise noted.
Despite dry van load post volumes in the Top 10 markets decreasing by 2% last week, capacity tightened with rates moving up by $0.02/mile to an average of $2.57/mile.
In the number one market in Atlanta, volumes were up 3%, and spot rates increased $0.05/mile to $2.71/mile.
The reverse happened in Memphis. Volumes dropped 18% but capacity continued to remain tight due to the massive disruption caused by the closure of the I-40 bridge over the Mississippi River. Rates moved up $0.03/mile to an average of $2.90/mile.
Capacity continued to tighten on the West Coast in Los Angeles where volumes dropped 3% while rates continued to increase by $0.03/mile last week to an average of $3.06/mile. In nearby Ontario, volumes increased by 5% with rates also increasing by $0.05/mile to $3.18/mile.
Spot rates
Even though spot market volumes dropped last week, capacity remains tight with rates moving up another $0.06/mile last week to $2.46/mile. Dry van spot rates are still $0.90/mile higher than this time last year and $0.54/mile higher than the same week in 2018.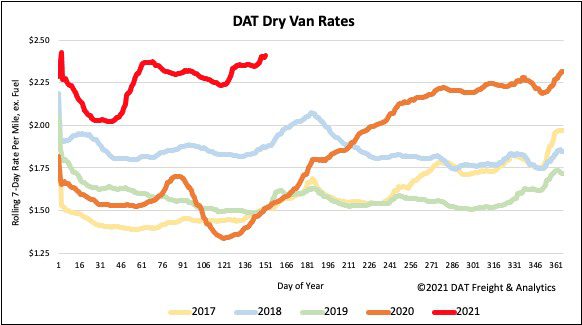 How to interpret the rate forecast:
Ratecast: DAT's core forecasting model
Short Term Scenario: Formerly the pessimistic model that focuses on a more near-term historical dataset
Blended Scenario: More heavily weighted towards the longer-term models
Blended Scenario v2: More heavily weighted towards the shorter-term models