About 84% of U.S. adults are expected to spend a record $35.7 billion this coming Mother's Day, representing an increase of $4 billion from 2022's record spending, according to the National Retail Federation (NRF). Their recently released annual survey indicates consumers plan to spend an average of $274.02 on Mother's Day items. Whichever way you look at it, $35.7 billion is a lot of freight, and using NAICS codes to convert retail revenue into tons equates to almost 200,000 truckloads using $12,000/ton as a rough guide. 
The top three gift categories this year are greeting cards (74%), flowers (74%), and special outings (60%). Flower sales are expected to be at an all-time high this year, directly impacting this Mother's Day freight market. As a result, refrigerated carriers should see increased demand for South American flowers, which predominantly arrive in Miami.
As was the case with Valentine's Day, this week is the peak shipping week for flowers ahead of Mother's Day, with most activity centered in Miami, just 3.5 hours flying time from where most Valentine's Day roses are grown. According to the USDA, in 2022, 58% of rose stems were imported from Columbia and 29% from Ecuador, with 82% landing at Miami International Airport (MIA) before being trucked all over the U.S. and Canada. An additional 4% are shipped via West Coast airports, including Los Angeles, Long Beach, and San Diego. 
Market Watch
All rates cited below exclude fuel surcharges unless otherwise noted.
Available dry van capacity continues to tighten in produce-growing regions as capacity migrates to higher-paying loads of fruit and vegetables in the Southeast, Southwest, and West Coast regions. Spot rates in Florida averaged $1.25/mile last week, and even though outbound rates have increased by around $0.12/mile in the previous month, they remain $0.02/mile lower than in 2019. Average rates in the Southeast, at $1.77/mile, were up $0.02/mile w/w and $0.05/mile higher than in 2019. Spot rates in Atlanta increased for the fourth week to $1.66/mile, up $0.06/mile in the last month. 
After decreasing since the start of the year, outbound spot rates in Illinois reversed course last week, increasing by a penny-per-mile to $1.92/mile on 12-15% lower volume. Gains were reported in Chicago and Joliet markets, where rates increased by $0.02/mile to $1.87/mile and $1.91/mile, respectively. In the logistics capital of the U.S. in Memphis, rates were up by $0.01/mile to $1.83/mile after dropping in the previous three weeks. On the West Coast, outbound spot rates in California increased by $0.04/mile to $1.88/mile, now $0.05/mile higher than in 2019. Spot rates increased in Ontario and Los Angeles for the fourth week to $1.72/mile and $1.63/mile, respectively. 
In the Northeast, outbound capacity was mulch tighter last week in Maine and New Hampshire, with rates up to a two-state average of $2.15/mile, an increase of $0.13/mile in the last week, and lower by the same amount compared to 2018. 
Load-to-Truck Ratio (LTR)
Following the 12% w/w boost in volume at the end of April, volumes retreated last week, erasing all of the prior week's gains. Load and equipment posts are around 8% higher than in 2019, resulting in the dry van load-to-truck ratio (LTR) decreasing from 2.21 to 1.84, almost identical to 2019.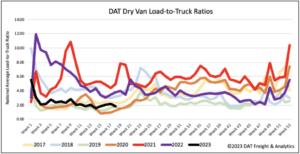 Linehaul Spot Rates
Dry van linehaul spot rates were flat again last week and have been around this level for the past three weeks. Since load post volumes were 12% lower last week, it looks more like the dry van market has found the bottom. At $1.62/mile, excluding fuel, the national average dry van rate is holding around $0.10/mile above 2019 levels. Based on the volume of loads moved, the average rate for the top 50 dry van lanes was $0.21/mile higher at $1.83/mile last week.