The negative news we've been reporting for reefer produce turned around last week, as robust apple harvests were underway in several markets throughout the country.
Washington state is the top producer of apples in the US, and last week saw load-to-truck ratios rise sharply in Spokane, Yakima, and nearby Pendleton, OR. Michigan's apple harvest also took off last week and volumes doubled in the Grand Rapids market.
The threat of Hurricane Dorian also boosted reefer activity. Lakeland, FL saw a late-week surge in pricing as the hurricane moved closer to the U.S. mainland. Our thoughts go out to everyone affect by the storm along the Southeastern U.S. and in the Bahamas.
Looking for reefer loads? DAT load boards are the largest and most trusted digital marketplace for truckload freight.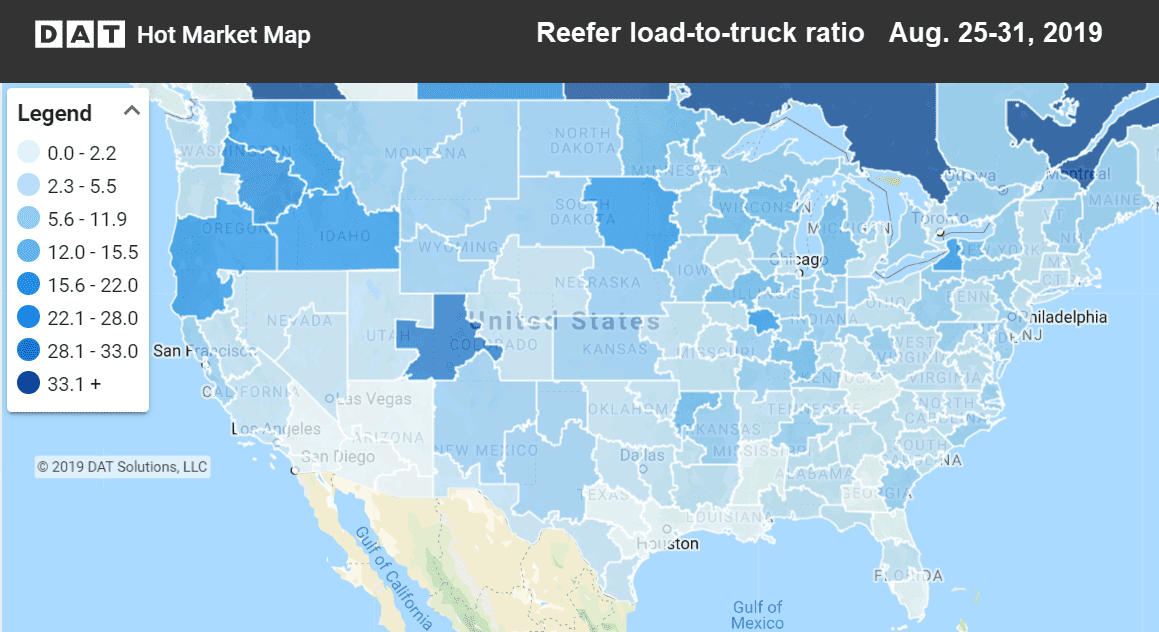 Reefers were in the most demand in apple producing areas, such as the Pacific Northwest, western Colorado and Michigan. Hot Market Maps are available in the DAT Power load board and DAT RateView.
Rising markets and lanes
In addition to rising prices out of Lakeland, both Chicago and Dallas moved up with seasonal trends, and Twin Falls, ID moved into peak potato shipping.
Green Bay to Des Moines climbed 38¢ to $3.02/mi
Chicago to Kansas City increased 18¢ to $2.51/mi
Feeling the effect of the hurricane were these two lanes:
Philadelphia to Miami added 21¢ to $2.37/mi
Lakeland, FL to Atlanta was up 18¢ to $1.38/mi
Falling markets and lanes
The only weak market was McAllen, TX, where rates slipped about 2%.
Falling lanes included:
Elizabeth, NJ to Boston tumbled 24¢ to $3.95/mi
Showing the mixed impact that the hurricane had last week were these lanes, where prices dropped:
Miami to Baltimore fell 26¢ to $1.38/mi.
Lakeland to Charlotte was down 15¢ to $1.36/mi.