Rates haven't been all that high for flatbeds, but the national average has held in a pretty stable in a range of $2.15 to $2.18 per mile since October. You might not expect the winter to be a great time for open-deck trailers, but there was a decent amount of freight this year, especially in the Southern states where the weather was mild.
As with dry van – and reefer for that matter – the Southeast is full of hot markets for flatbeds. Rates are moving up on many high-volume flatbed lanes that originate in Sun Belt markets.
Find loads and trucks for any cargo type on the DAT load board, the biggest and most trusted truckload freight marketplace.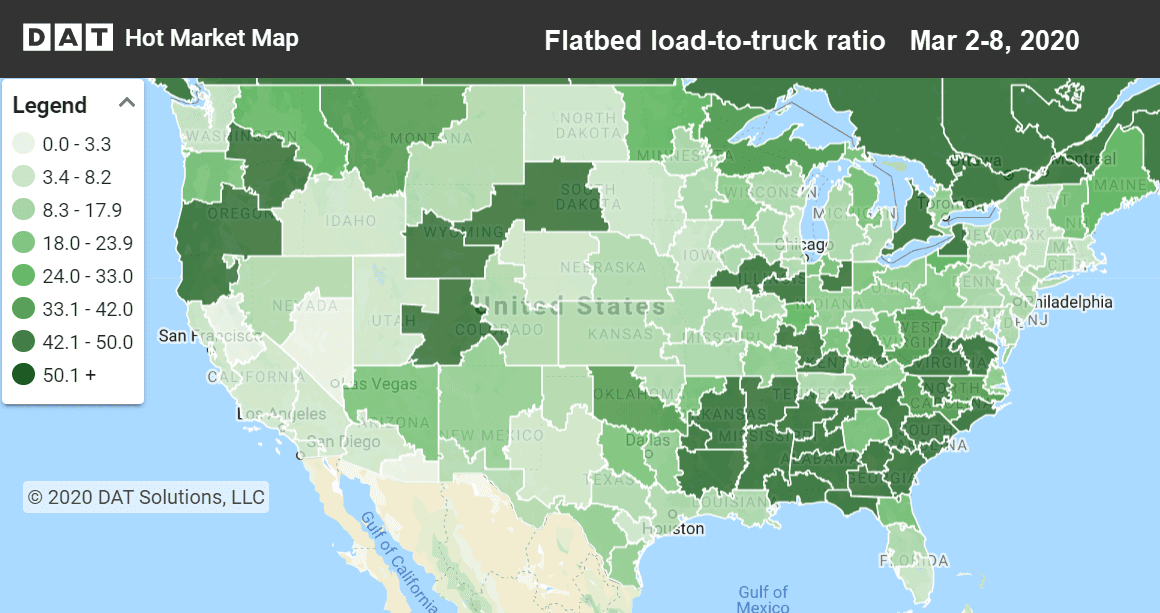 Load-to-truck ratios indicate especially strong demand for flatbeds in the Southeast last week, as seen in this Hot Market Map. You can find these interactive maps in DAT Power and DAT RateView.
There will be extra demand for flatbed freight for haul heavy equipment and construction materals going into Nashville and other areas in Tennessee, following last week's devastating tornadoes. Other lanes in the Southern states are also picking up steam.
Raleigh to Baltimore went down a couple of weeks ago, but it's rebounding now, up 20¢ to $2.83 per loaded mile — although depending on your equipment and the cargo, you could get paid between $2.71 and $3.82. If you need a load back from Baltimore to Raleigh, you might find something for $1.85 to $2.00 per mile — the average last week was $1.92.
Birmingham to Chicago is also trending up, but more slowly. Last week, flatbedders got $2.13 per mile, and Chicago to Birmingham paid $2.01.
Memphis to Tulsa rose a few cents last week to $2.76 per loaded mile and Tulsa to Memphis paid $1.78 — assuming you could find a load back. Maybe take a short haul to Oklahoma City (and then find another load back to Memphis.
Houston to Los Angeles ratesare back up to $1.95, and L.A. to Houston is trending up — but only to $1.50 per mile. You could try Houston to Las Vegas and Las Vegas to L.A. There's not a lot of freight though, so it's a gamble.
Some of the "biggest loser" lanes for flatbeds were in the West.
Reno to Seattle bounced back to $1.89 per mile, and Seattle to Reno is paying about $2.10, plus or minus. That's up from February, but down from January, and there aren't many loads.
Phoenix to Dallas fell to $1.10 per mile from $1.47 at the end of January. Dallas to Phoenix is a little perkier, at $2.07 per mile, up 10¢ in the same six weeks.
Las Vegas to Stockton, CA dropped 7¢ to $2.07 per mile, and Stockton back to Las Vegas paid $2.19, up 19¢, but there's not much freight. For the same 1,000-mile distance, try two roundtrips between Las Vegas and Los Angeles for $2.31 westbound and $2.76 back.
Of course, the rate per mile doesn't tell the whole story, especially for flatbeds. Your equipment type, cargo, and timing make a big difference, and so do origin and destination pairs, pickup and delivery locations, and all the other details that can't be captured in a straight-up average.