The number of spot reefer load posts on the DAT network increased 13% last week with very little change in truck posts. The national average reefer load-to-truck ratio edged higher from 8.6 to 9.9 as a result.
One reason for reefer demand: shippers needed temperature-controlled trailers to keep loads from freezing as cold winter weather hit much of the country. The number of loads moved on DAT's top 72 reefer lanes by volume was up 1.8% week over week, and the average spot reefer rate was up on 19 of those lanes, lower on 39 and neutral on 14.
Load post volumes increased in each of the top 10 reefer markets.
Find reefer loads and trucks on the largest on-demand freight exchange in North America.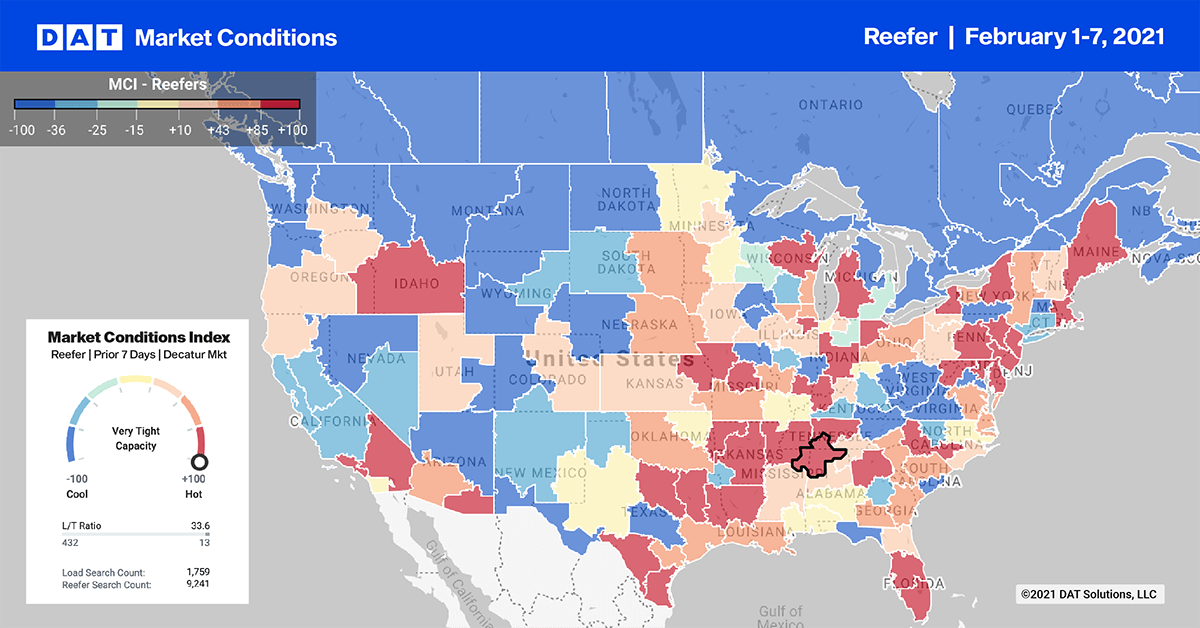 Market trends
Imports in Elizabeth and Philadelphia: Elizabeth, N.J., retained the number-one position for available loads for the fourth week in a row, and tighter capacity helped push rates up 7 cents to $2.13/mile. In Philadelphia, outbound reefer volumes jumped 18% week over week; the Port of Philadelphia is a favored landing spot for imported grapes, bananas, pineapples, mangos, plantains, blueberries, asparagus and other perishables.
Strawberries ramp up in Florida: We've hit peak growing season for winter strawberries in Florida. Growers shipped 76% of their annual volume between January 25 and March 28 last year at an average of 72 truckloads per day, according to the USDA. This week is typically the busiest: the highest number of daily loads shipped was on Valentine's Day last year.
We're on the cusp early produce season in Florida. South Florida outbound volumes are already up 20% week over week, with outbound 3-day average spot line-haul rates up 40 cents to an average of $2.59/mile for loads from Lakeland to Brooklyn, N.Y.
In Miami, load volumes are up 44% this week with roses and other cut flowers on the move ahead of Valentine's Day. Rates increased 60 cents to an average of $2.83/mile for loads from Miami to Boston; that lane hit as high as $3.81/mile.
Spot rates
Spot line-haul rates in the reefer sector ended the week where they started, at $2.27/mile as a national average.
That's 47 cents higher than the same week in 2020 when rates averaged $1.80/mile (the line-haul rate excludes fuel). It's also 38 cents less than the high point during the first week of January. Spot rates have generally been on a slide all quarter.
We're definitely at an inflection point where reefer contract rates are now higher than spot rates. Around Thanksgiving, the average spot reefer rate was 20 cents higher than the average contract rate. Now it's about 5 cents lower.
How to interpret the rate forecast
1.    Ratecast Prediction:  DAT's core forecasting model estimate showing continued optimism and rate growth.
2.    Short Term Scenario: Formerly the pessimistic model that focuses on a more near-term historical dataset.
3.    Blended Scenario: More heavily weighted towards the longer-term models.
4.    Blended Scenario v2:  More heavily weighted towards the shorter-term models.
> Learn more about Ratecast predictions available in RateView.