Located just an hour's drive from Detroit on the shores of Lake Ontario is the produce-growing region in Leamington, ON. At the region's heart is the Ontario Greenhouse Vegetable Growers (OGVG), established in 1967 and representing approximately 170 members who grow greenhouse tomatoes, cucumbers, and peppers year-round on over 3800 acres. According to Richard Lee, executive director for Ontario Greenhouse Vegetable Growers, in an interview with The Packer, "The greenhouse industry continues to expand year over year with Ontario as the leading supplier of greenhouse tomatoes, peppers, and cucumbers to North America.". 
According to Ryan Mohamed from TPZ Logistics, "Traditionally, carriers wouldn't be interested in hauling to Leamington as opposed to the preferred Greater Toronto Area. Especially if they have a dry van. But with the abundance of vegetable and cannabis farms – there are many options for a reload out of Leamington. We saw on one RFP with a known grower that they had an increase of 325% in total shipments due to the growing cannabis market. The Leamington market continues to grow, with the affordable housing and job market increasing, and only an hour away from Detroit."
Current greenhouse acreage has increased by 40% since 2016, with annual growth projected to increase from 5% to 7% annually. With 140 million residents in Canada and the U.S. combined within a day's drive by truck, Leamington is ideally positioned to serve major produce markets. According to OGVG, in 2022, they shipped 206 million kilograms (KG) of tomato, 171 million KG of cucumber, and 125 million KG of pepper for a total of 502 million KG or just over 1.1 billion pounds. That's the equivalent of almost 25,000 truckloads of refrigerated produce! According to USDA import data, of the total volume of peppers, tomatoes, and cucumbers imported into the U.S. last year, 93% came from the Leamington region. Almost 70% of the volume headed to the U.S. crosses in Detroit, with the second most popular crossing point in Buffalo (14%).
Market Watch
All rates cited below exclude fuel surcharges unless otherwise noted.
As produce season starts to roll in Florida, with volumes up 18% last week, reefer linehaul rates are climbing following the state's $0.05/mile increase to $1.48/mile last week, over $0.50/mile lower than the previous year. Solid gains were reported in the strawberry capital in Lakeland, where volumes and spot rates were up 13% w/w and $0.05/mile to $1.38/mile, respectively. Further south in Florida's largest reefer spot market, Miami volumes surged 23% last week, resulting in tighter capacity and pushing reefer spot rates from $0.07/mile to $1.41/mile. Loads from Lakeland to Hunts Point in New York, the largest food distribution market with a history dating back 200 years, were paying the highest since last June at $1.93/mile.
In Houston, volumes were up 2% w/w with capacity tight following last week's $0.15/mile increase to $2.12/mile. At $3.32/mile, regional loads east to New Orleans were up $0.38/mile last week, while loads north to Dallas paid an average of $732/load or just over $3.00/mile. 800-mile loads to Atlanta paid just under $2.00/mile last week, slightly higher than last month's average and $1.14/mile lower than the previous year. 
In nearby McAllen, the largest reefer spot market along the southern border, volumes were down by 14% last week, yet outbound capacity was tighter for the fourth week following a $0.10/mile increase to $2.34/mile. Hunts Point in New York was a popular destination for imported loads from Mexico and regional loads from the Rio Grande Valley last week. At $2.35/mile, linehaul rates were $0.25/mile higher than the February average, with DATs Ratecast forecasting reefer linehaul rates on this lane to peak another $0.14/mile higher around $2.50/mile at the start of June following the annual peak in produce imports from Mexico.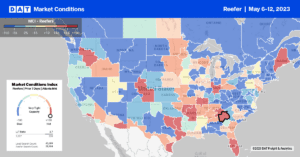 Load to Truck Ratio (LTR)
Reefer volumes cooled off significantly last week, dropping by 20% w/w recording the lowest weekly load post volume this year. Volumes are almost a third of what they were a year ago and are currently being bogged down by the weather-impacted produce season in Florida and California, which are off to a very slow start. National produce volumes are down 21% m/m, and 12% y/y, with the recent and devastating flooding in California expected to delay produce season volumes even further. Reefer equipment posts were up 8% last week, contributing to the 26% reefer load-to-truck (LTR) drop from 4.29 to 3.17.
Spot Rates
Following the end-of-month shipping surge, the national average reefer linehaul rate reversed most of the prior week's gains, decreasing by almost $0.02/mile last week to $2.03/mile. Reefer spot rates are around 31% lower than last year. On DATs Top 70 reefer lanes based on the volume of loads moved last week, linehaul rates decreased on 60% of lanes, increasing on only 16% with the balance remaining neutral.