While van prices have remained fairly stable in the past couple weeks, we've seen some huge swings in the flatbed market. Rates have surged in certain lanes and regions of the country, while rates have plummeting in other lanes and regions.
In general, the winner has been the Southeast, while the Midwest has stalled. The national average flatbed rate for June so far is $2.30 per mile — that's up 2¢ from the May average, but lower than the first four months of 2019.
DAT load boards provide the largest and most trusted digital freight marketplace in the trucking industry.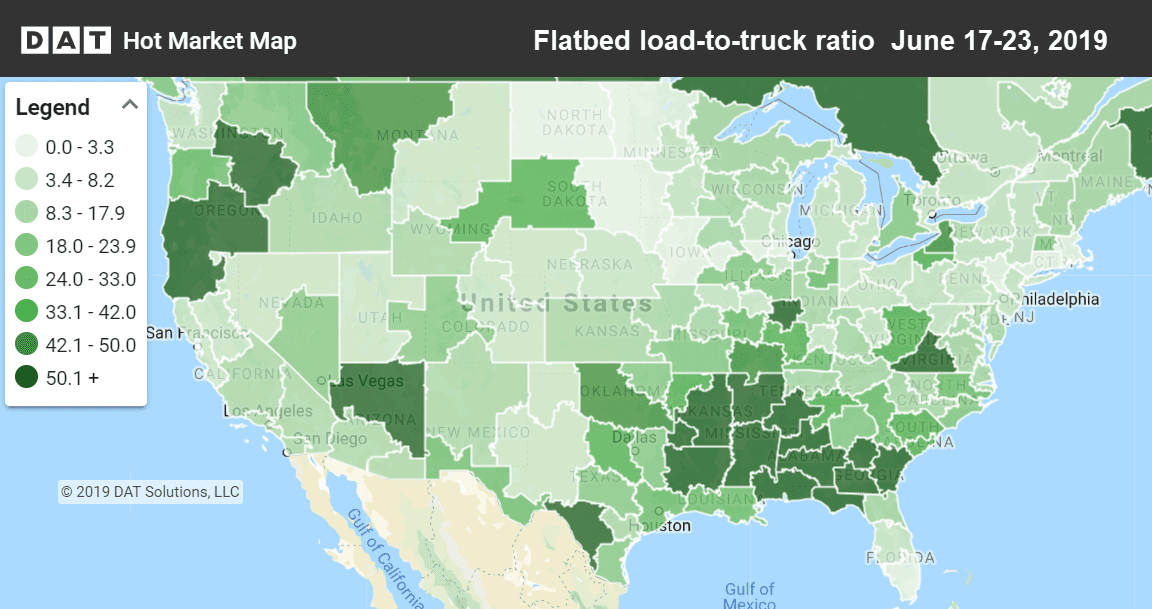 The national flatbed load-to-truck ratio increased to 19.1 last week. Flatbeds were hardest to find in the Southeast and in the Las Vegas market. See how you can view similar maps using DAT's Hot Market Maps.
Rising rates
Two of the hottest flatbed markets are Raleigh, NC and Las Vegas. In the Raleigh market, freight volumes were up more than 40% last week. Las Vegas is a hub for construction materials and last week volumes surged 51% and rates rose 12%. Flatbed loads demand from Las Vegas to Los Angeles is at a yearly high.
Raleigh to Miami surged 73¢ to $3.40/mi.
Las Vegas to Sacramento moved up 55¢ to $2.92/mi.
Las Vegas to Los Angeles added 30¢ to $2.91/mi.
Atlanta to Baltimore increased 24¢ to $2.91/mi.
Baltimore to Springfield, MA hit 4.04/mi., which looks more like a June 2018 rate
Over the past month, the Raleigh, NC freight market has seen rising load counts (grey bars) and rising load-to-truck ratios (green line). Raleigh now has an average outbound rate of $2.94/mi. Charts like this are available in Hot Market Maps, a tool within DAT RateView and the DAT Power load board.
Falling rates
Pittsburgh, Savannah, GA, and Rock Island, IL, are experiencing declining freight levels and rates. The Rock Island market ships a lot of heavy equipment and farm machinery, and demand has been down due to flooding and unfavorable weather in the Midwest and other parts of the country.
Harrisburg, PA, to Springfield, MA, plunged 69¢ to $3.29/mi.
Pittsburgh to Grand Rapids, MI, was down 35¢ to $2.48/mi.
Rock Island to Grand Rapids dropped 34¢ to $2.93/mi.
Rock Island to Kansas City fell 28¢ to $2.59/mi.
Find loads, trucks and lane-by-lane rate information in DAT load boards, including rates from DAT RateView