The holiday rush is underway. Refrigerated freight volumes hit a new weekly record, surpassing even 2017's record-setting volumes. Reefer rates jumped more than 3% last week and have climbed more than 6% from the prior month.
On the top 72 reefer lanes last week, rates increased in 52 of those lanes. Top performing markets include those shipping produce and other goods for the upcoming holiday, such as Miami, Twin Falls, Sacramento, and Green Bay. The national average reefer rate is now $2.16 per mile, which is 5¢ higher than the October average.    
Looking for reefer loads? DAT load boards are the largest and most trusted digital marketplace for truckload freight.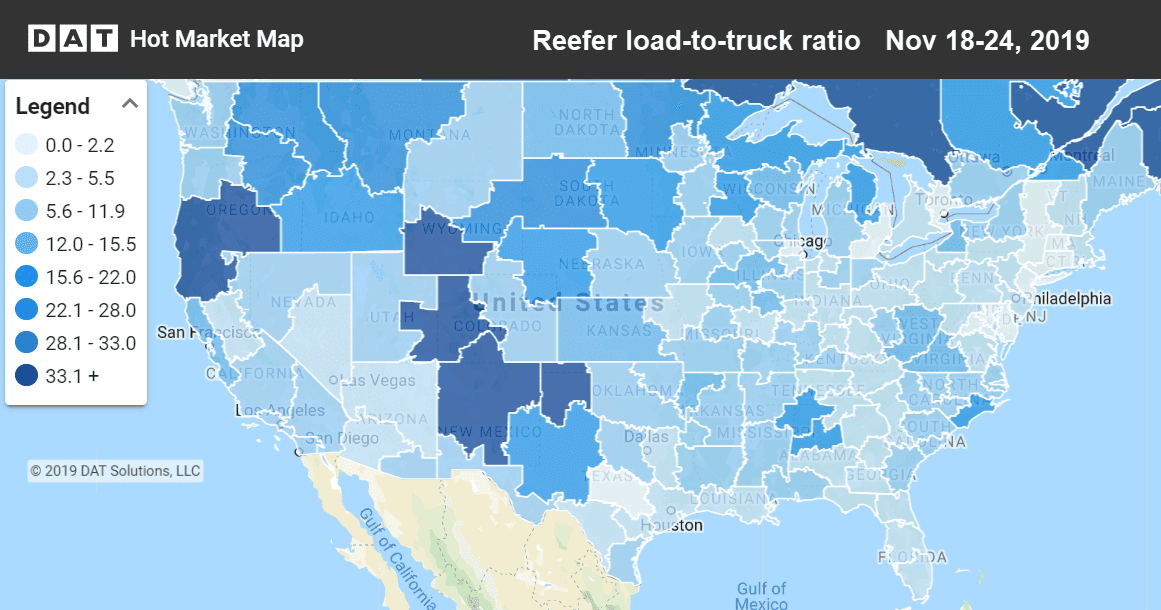 Hot Market Maps, available in the DAT Power load board and DAT RateView, show load-to-truck ratios in 135 freight markets in the U.S.
Rising markets and lanes
Rates were up in almost every major reefer market. The largest rate increases came from Twin Falls, ID, Fresno, CA, Los Angeles, Denver, and Nogales, AZ. Freight volumes were up more than 40% in Miami, and more than 20% in Sacramento. Rising lanes included:
Twin Falls, ID to Phoenix spiked 36¢ to $2.91/mi.
Los Angeles to Denver shot up 32¢ to $3.00/mi.
Miami to Baltimore added 29¢ to $2.35/mi.
Falling markets and lanes
Rate declines were few:
Grand Rapids, MI to Philadelphia slipped 19¢ from its peak to $3.12/mi.
Elizabeth, NJ to Lakeland, FL moved down 10¢ to $1.99/mi. due to stronger northbound rates from Florida
Grand Rapids to Cleveland dipped 10¢ to $3.87/mi.