Although rates have dropped considerably from record levels in 2018, spot market freight volume — actual loads moved — was higher in the first half of 2019 compared to the same period last year.
Van freight volumes were actually 7 percent higher in the first six months of 2019 versus the first half of 2018, according to the DAT Truckload Volume Index, which reflects the change in the number of loads moved each month. So why haven't rates followed suit?
DAT load boards provide the largest and most trusted digital freight marketplace in the trucking industry.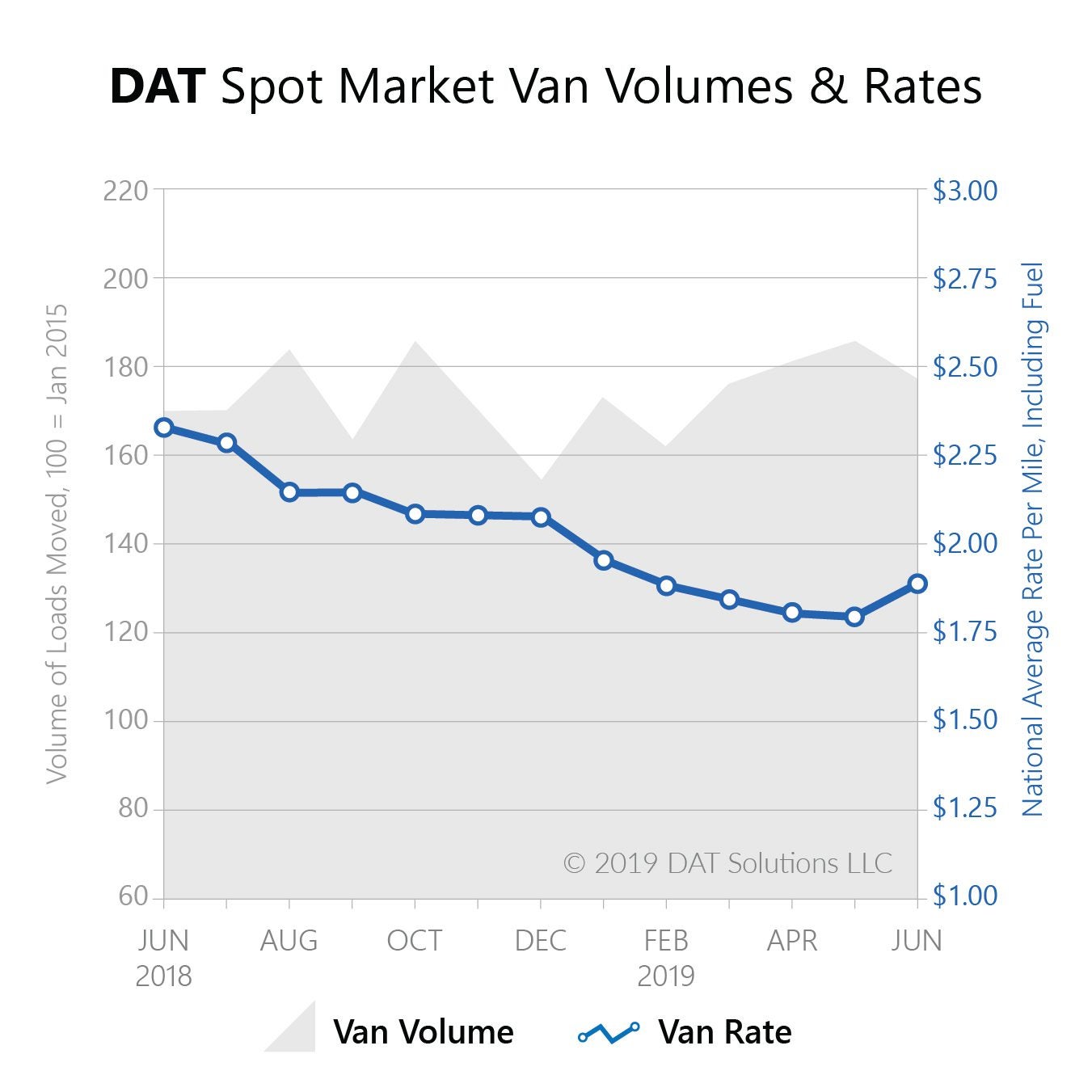 Even though rates have declined in 2019, spot market freight volume has remained strong.
For one, truckload capacity isn't as tight this year as it was in 2018. Trucks became harder to find after the ELD mandate went into effect, putting upward pressure on spot rates. That reached a fever pitch in June, when prices hit all-time record highs for all three major equipment types. Class 8 truck sales also hit a record high, with fleets expanding to meet the demand. Meanwhile, the higher rates enticed more owner-operators starting their own trucking companies.
That's led to more trucks available on the spot market in 2019. And to avoid a repeat of last June, shippers have placed higher priority on securing capacity ahead of time this year. Fuel prices have also been stable, which has reduced volatility in spot rates.
Prices heat up in June
While spot rates are down year over year, we still saw increases from May to June, with the national van and reefer rates hitting their highest marks since January.
"The annual Roadcheck inspection blitz limited truck availability in the first week of June," said Peggy Dorf, DAT Market Analyst. "The urgency to move shipments before the close of Q2 sustained those price increases through the end of the month."
The national average van rate for June was $1.89 per mile, including fuel surcharges. The national reefer rate rose to $2.25 per mile in June. Both were 10¢ increases from May. The national average flatbed rate rose 3¢ from May to June at $2.30 per mile.
"June is often considered a peak month for the spot market, but that's truer for rates than volumes," said Dorf. "We expect spot market volumes to gain strength in the second half of this year, although rates probably will not rebound to 2018 levels."
Find loads, trucks and lane-by-lane rate information in DAT load boards, including rates from DAT RateView.