More capacity in the refrigerated sector is one possible outcome of the recent interim final rule published by the Federal Motor Carrier Safety Administration (FMCSA), clarifying agricultural commodity and livestock definitions in hours-of-service regulations.
The current 150-air-mile radius remains in place with changes to the number of commodities allowed under the exemption bringing in a higher number of carriers and drivers with access to the exemption.
According to the FMCSA, "Under current regulations, drivers transporting agricultural commodities, including livestock, from the source of the commodities to a location within 150 air miles of the source, during harvest and planting seasons as defined by each State, are exempt from the HOS requirements. Furthermore, the HOS requirement for a 30-minute rest break does not apply to drivers transporting livestock in interstate commerce while the livestock are on the commercial motor vehicle."
Find reefer loads and trucks on North America's largest on-demand freight marketplace.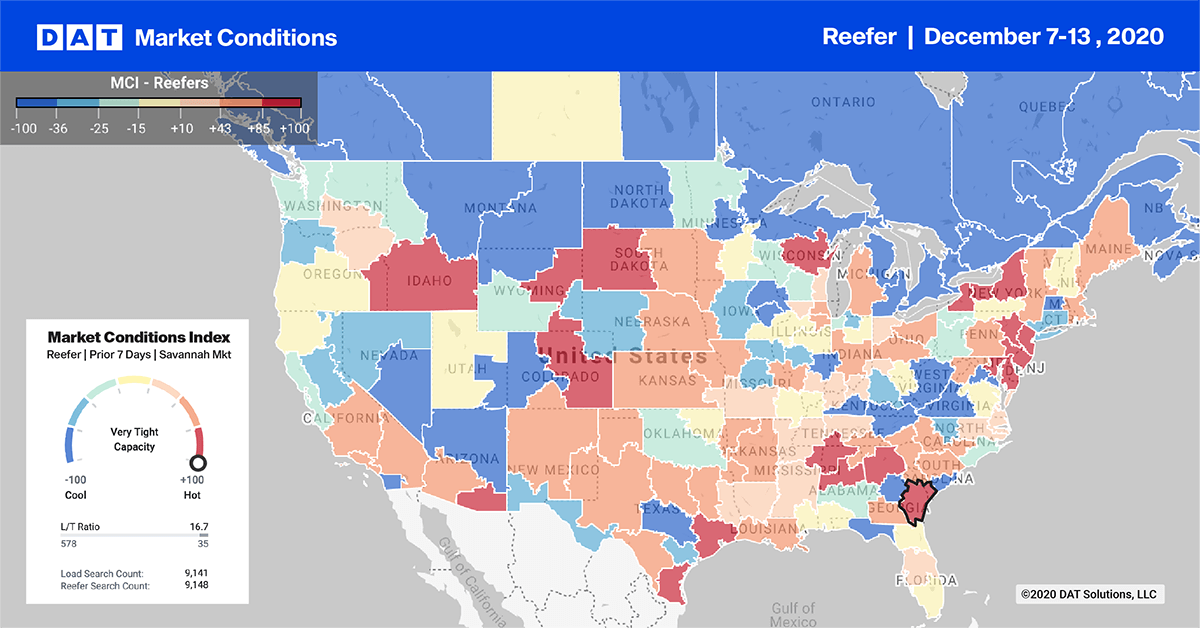 Top 10 Market Watch
Similar to dry van, reefer volumes in all of our top 10 markets decreased by 22% last week. Only one market (McAllen #20) in the top 20, which accounts for 37% of load volumes, increased last week.
Reefer volumes are definitely cooling off and available capacity is loosening as rates in the top 10 markets decrease on average by $0.11/mile last week. In contrast, reefer capacity was tighter in Houston (#8) with spot rates up $0.09/mile to $2.30/mile.
Spot Rates
Spot rates in the reefer sector dropped the most of the three equipment types we track each week, dropping $0.09/mile to $2.39/mile last week. Reefer rates are still $0.51/mile or 27% higher compared to the same week in 2019, but are definitely cooling off following the surge in temperature-controlled volumes around the Thanksgiving break.